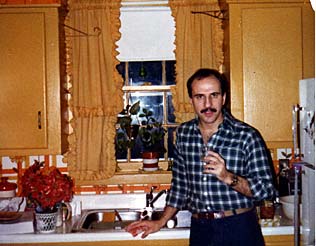 The summer of 1974 was the start of my Disco years in New York City.
I had just completed my MFA thesis at Brooklyn College and was now on my own. I was staying temporarily with my good friend Dennis who was the set designer for my graduate production. He lived in the Park Slope section of Brooklyn before the lesbians, yuppies, chic shops and million dollar brownstones – the Park Slope of Irish Bars, Chinese Laundries, Food Coops and middle class teen rednecks.
"Goodbye Yellow Brick Road"
Dennis was a tall and lanky, very bohemian, sensitive artiste – straight. He was very generous and open to let me room with him in his tiny studio until I figured out my life. We shared a pullout sofa bed in a tenement walkup on Seventh Avenue and First Street, facing a noisy public school yard. It was a platonic relationship even though I wouldn't have minded a bit of "gee was I drunk" one night since he was handsome Pole with a kielbasa to prove it
"Ah Memories, Light the Corners of My Mind."
Armed with my recently acquired MFA in directing from Brooklyn College, I was ready to take New York by storm and become a famous Broadway stage director.  For the summer interim however, I received a scholarship to study directing at the Shakespeare Institute in conjunction with the Stratford Theatre Festival in Connecticut.
Lodging and classes were at the University of Connecticut at Bridgeport. Evenings and seminars with the cast were held at the theatre in Stratford.  Bridgeport was an iconic 1960's urban renewal mess of a city. One side faced the then polluted Long Island Sound, one side faced the PT Barnum Museum, and the other side faced ghetto squalor.
"Livin' Just Enough for the City"
Loretta
I Discovered Disco and Loretta in the summer of 1974. Loretta was also attending the "institute," as we mockingly call it to this very day. Loretta was a 22-year-old English Major from the hollers of West Virginia, a girl destined to escape her Mennonite ancestry and blossom into a then unknown Hilary Clinton-like dynamic woman.  She was a demure high school English teacher in the one-stoplight town of Romney who fell in love with New York City and soon fell in love with me. We became the Disco version of Scott and Zelda as we escaped the "institute" every weekend for madcap escapades in the city.
"I Can't Help It, If I Am Still in Love with You"
Our favorite hangout was The 82 Club in the East Village on E. 4th Street. The pre- "Rent" East Village and The 82 Club were the height of depravity. This hideaway was as close to a cabaret of the Weimer Republic as one can imagine with drag queens, chanteuses, superstars and us.
Like Sally Bowles and Christopher Isherwood we played on Saturday nights at being totally decadent and in love. Early Sundays mornings, we would crash on Dennis's pull out sofa, all three of us exhausted in drunken abandon. Dennis was usually the first to rise, and he would get up and moan, "I need my coffee" and make us the first cappuccinos we ever tasted. On Sunday night, Loretta and I would sleep in each other's arms all the way back up to Bridgeport on the local Metro North train, waking up at every stop to chant with the conductor: Stamford!  Darien!  Westport!
"You're My First, My Last My Everything"
The beat, the drive, the rhythm of Disco turned me into a dancing fool. I never was the teenager who watched Dick Clark's American Bandstand dancing around the living room or went to the school dance. I don't remember the exact song or moment it possessed me but suddenly at 26, the music swept over me and took control of me like the ballerina in Hans Christian Andersen's fairy tale, The Red Shoes or like a manic Sicilian girl with twirling skirts, dancing herself into a trance to the Tarantella trying to ward off the malocchio.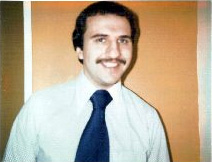 "Rock the Boat Baby"
I bought a portable record player (the boom box of the day,) and became a proselytizer of dance, a young Pan, a Disco Dionysus. I spent money I did not have n 48's and LPs. I had to have the latest extended DJ version of a song, which you could only buy at a store on Carmine Street in the Village.
I had Disco parties in the UConn cafeteria after our studies or after we retuned late from an evening performance at Stratford. We danced at Club 82, on the beach of the Sound, in the scene shop at Strafford and on the hardwood floors of Dennis's apartment. Loretta and I even danced to our own inner beat on the empty D train as it crossed Manhattan Bridge high above the East River.
"Dancin" in the Street"
The Disco beat was steady and pulsing. It's trance like mantra released my inhibitions. It was if I took an elixir and turned me into an impish Puck/Donkey of Midsummer Night's Dream or a devilish, grinning Mr. Hyde. You didn't need to know dance steps and the movement was sexy and fluid. You could be dancing with anyone in the swirling crowd around you. I sometimes pretended Dennis was my partner as I danced around an unsuspecting Loretta as we all spun around her "Disco bag" she had recklessly thrown down on the dance floor of Le Jardin, ourr own Arden Forest.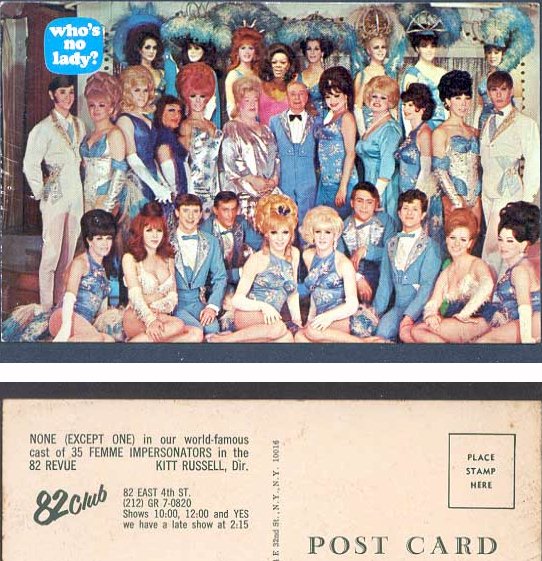 "Get Dancin'"
We studied Shakespeare all summer and we all had to present a project for accreditation. In retrospect I must have been unconsciously inspired by my dancing craze and summer love.  I directed a choreographed/acted version of Shakespeare's Venus and Adonis. The poem was accompanied by the music of Arnold Schoenberg's Transfigured Night – a very Anthony Tudor/Agnes DeMille dance/drama piece
Venus and Adonis comes from Ovid's Metamorphoses. Ovid told of how Venus took the beautiful Adonis as her first mortal lover. They were long-time companions, with the goddess hunting alongside her lover. She warns him of the tale of Atalanta and  Hippomenes to dissuade him from hunting dangerous animals, he disregards the warning, and is killed by a boar.
"Must Be the Night Fever"
I also fell "a little bit in love" with the director Michael Kahn, while assisting at Strafford. This was the season of his "Cat on a Hot Tin Roof" with Elizabeth Ashley, Keir Dullea and Fred Gwynne. He also directed a beautiful production of "Romeo and Juliette" set during the Risorgimento in Italy. I dreamed of becoming Michael's assistant and protégé and lover. He never did and I never told him.
"If You Love Me, Let Me Know,"
The dancing stopped one night in August. After our cafeteria dinner, as we listened to "Don't Let the Sun Go Down on Me" from Elton John's new album.  Someone turned the TV on and we froze like figures in a game of "Statues" as we gathered around to hear the rumored news.
"Good evening.
This is the 37th time I have spoken to you from this office, where so many decisions have been made that shaped the history of this Nation. Each time I have done so to discuss with you some matter that I believe affected the national interest. I have never been a quitter. To leave office before my term is completed is abhorrent to every instinct in my body. But as President, I must put the interest of America first. America needs a full-time President and a full-time Congress, particularly at this time with problems we face at home and abroad.
Therefore, I shall resign the Presidency effective at noon tomorrow. Vice President Ford will be sworn in as President at that hour in this office."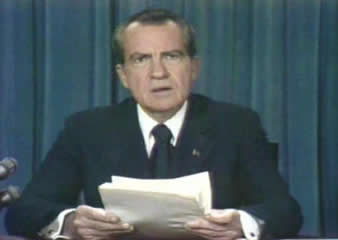 "Shame Shame Shame"
We all listened in silence as President Nixon resigned on Aug. 8, 1974. And the sun did go down over the Long Island Sound.  I can't say August 8th is the "day the music died."  Even though it was the last days of the "institute my inner beat and Disco were about to explode.
We danced and danced all though that hot summer nights in Manhattan, Stratford and Bridgeport. Loretta and I became beloved friends and soul mates. A woman I could love without fear or responsibility and expectation – a masquerade, a pas de deux, and shadow play of Romeo of Juliette. How fitting we were studying in the hometown of PT Barnum, appearing in our own Midway Freak Show with acts of curiosity and sideshow romance.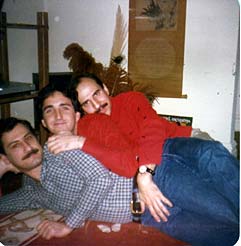 Sam, Barry and me
"Don't Let the Sun Go Down on Me"
Loretta returned to Romney, West Virginia only to move in with me the following year with a her friend Fran. I returned to Park Slope and started to notice an influx of women in overall and flannels. Thirty years later, straight Dennis came out. Timing is all. He now has a lover who looks curiously like me. Ahem.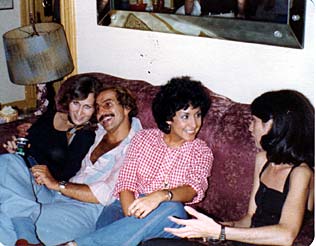 Garfield Place
"Rock the Boat Baby"
The Disco Years had just begun with nights at Studio 54, Peppermint Lounge and the Sanctuary. The era of liberation and sex was dawning – poppers, pot, polyester shirts, and potluck Disco parties in my first apartment on Garfield Place. I rented it with Dennis's younger brother, Robert and "gee we did get drunk".
 I was the "new boy was in town" – not Tony Manero of Saturday Night Fever strutting down 86th Street but Tony Napoli strutting down Broadway like a character in Fame.  I was dancing down the street and catching the night fever, dressed in platform shoes, white tight pants, Nik Nik shirt with gold chain bracelet or Puka Bead necklace and blow-dried styled hair. I was ready to take NYC by storm.
"Stayin' Alive"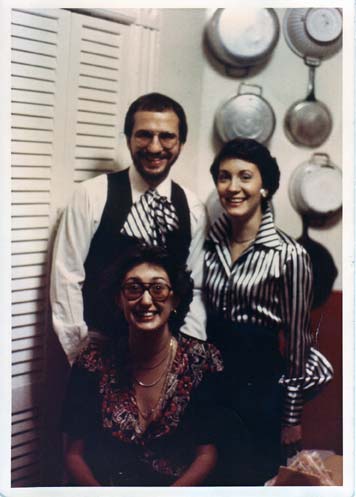 Loretta, Fran and me