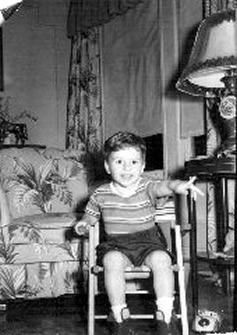 (My first directors chair)
I called a colleague of mine at 9:00pm on a "school night". As we were chatting, I heard his 4-year olds playing in the background. So bluntly I blurted out: "Shouldn't they be in bed by now?"  The reply was: "They aren't sleepy yet!"
When I was a child of their age we were in bed at 8pm no matter what.  I had to be 10 years old to stay up till 9pm. This caused me great pain and petulance since lots of my favorite TV shows started at that time.
After being sent up be upstairs to my room, I would sneak down the staircase ever so slowly and peer over the banister to snatch glimpses of the show I so wanted to watch. I must have looked like a turtle's head darting in and out of its shell since I had to avoid my mother's Medusa glare. It was she who laid down the neo-Nazi martial law curfew of 9:00pm. If father looked up, he would always give me a secret, conspiratorial grin.
When I reached 12 I stayed up till 10:00pm and at high school it was extended to eleven. This was great since my patents went to bed at 10. I had a whole hour to myself to watch whatever I wanted – like the discussion on transvestites on the David Susskind Show or falling in love with Ryan O'Neal on Peyton Place or admiring how well the pants fit on Robert Conrad on Wild Wild West.
My RCA TV set was lucky to receive the local NYC station of Channel Nine, WOR even up in Newburgh, NY sixty miles away from OZ. Million Dollar Movie would show the same film twice every night at 7 & 9pm and multiple times all day Saturday and Sunday. "Tara's Theme" from Gone with the Wind would swell up and King Kong would hold a clacker board with the title. In the 1950's, movie studios didn't want their films shown on TV, but the defunct catalogue of films from RKO Studio were shown on channel 9. I am not lying when I say I saw, 20 times each: King Kong, Citizen Kane, Mighty Joe Young, The Hunchback of Notre Dame, Cat People and all the musicals of Fred and Ginger.
Also Million Dollar Movie showed a great many foreign films of post war Europe. I grew up on Italian neorealism and sometimes I could not tell the difference between the streets and characters of the Bronx/Brooklyn from the streets and denizens of Rome/Naples as depicted in De Sica's The Bicycle Thieves and Shoeshine or Rossellini's Roma, Open City or Paisano.
I was also watching badly dubbed English versions of La Strada, Nights of Cabiria, Virgin Spring and Wild Strawberries. Here was a 12-year boy grappling with the existentialism of Fellini and the nihilism of Bergman. They would later become staples my college days art house viewing circuit and were a great influence as I strove to be a theatrical director.
The Technicolor psychosexual films of Michael Powell shaped my sexuality. My angst of dealing with my homosexuality was mirrored in their lurid, luscious ripe colors, Freudian subtexts and over the top melodramatic acting. I was the prim mother superior of Deborah Kerr, or the nun who had jungle red lips living in the Himalayas in his Black Narcissus. I was the tenor, Robert Roundsville, as the dashing anti-hero in the Tales of Hoffman; rowing my gondola in the canals of Venice singing the Barcarolle. And I was young Wendy Hiller, a determined girl looking for love in "I Know Where I'm Going" –  (not!)
And then there was the iconic Red Shoes  (based on the fairy tale by closeted author, Hans Christian Andersen) that inspired many a dancer and gay boy cf. A Chorus Line. The Red Shoes was the tragic story of a ballerina torn between her young lover and her career; both ruled over by a mad man who loved them both.Yes everything was not "beautiful at the ballet." I identified not with Victoria Page, the ballerina, but the Diaghilev-like manic ruthless impresario, Boris Lermontov.
After so many viewings, I could re-encact the final scenes of the Red Shoes by sweeping open the the bathroom shower curtains and stepping out with my wet hair wildy tossed back and weepingly shouting out as Boris on stage announces Victoria's death: "I am sorry to tell you that Miss Page is unable to dance tonight nor indeed any other night!"
Gliding into the living room, I slipped off my slippers and held them in my hand, close to the floor and cried: "Never the less, we've decided to present The Red Shoes. It is the ballet that made her name and whose name she made. We present it because we think she would have wished it so." Then I danced them magically around the parlor as if Victoria Page, the dead ballerina was still in those shoes and she was in me.
It would be many years later before I could finally say to my lover, "Julian, darling, take off the Red Shoes."
To be continued…
Note:  Film director Martin Scorsese cites Million Dollar Movie as a great influence on him. By the way our families both emigrated from the same small town, Ciminna in Sicily.