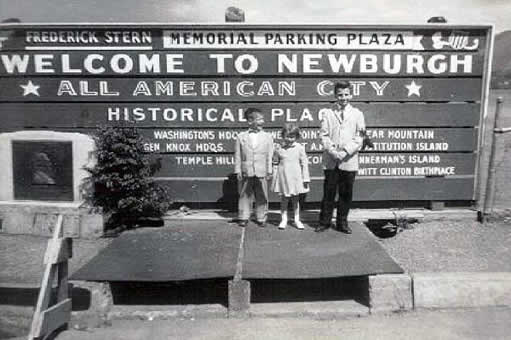 My mother threw the hard half-gallon brick of Crowley's Neapolitan ice cream onto the kitchen linoleum floor. "Come on, we're leaving."
We were still in our Sunday clothes finishing up our 1pm dinner after attending Mass. I quickly grabbed my jacket and helped my younger brother and sister into their sweaters. My father sat quietly in the living room watching the Yankees on channel 11. My Mom grabbed her hat and purse and stormed out before us. We walked two blocks to the corner of Jay Street and Route 94 and waited for the 1:45pm bus from Cornwall to take us to downtown Newburgh.  I thought we were going to catch an afternoon matinee at the Ritz Theatre.
"Son of a bitch, this time we're not going back. This is it.  I have had enough," screamed my mother at the cars whirring by as we stood on the side of the highway. I knew then we were not going to the movies to see 2:30 pm showing of "Pollyanna."
"I have to make my own fucking Mother's Day dinner. He doesn't lift a goddamn finger. Your father lies on his ass and just pretends to be sick."
My father had Parkinson's disease.
"But Ma, I made you a nice card and bought you a present. Didn't you like the Jean Natè?"
 "You're no big help either… My life is over. I 'm married to a dead man. Not anymore. I am out of here. You can go back if you want to, little man. You're just like him anyway. "
"No Mommy I will stay with you."
The bus pulled up and my Mom paid our 30 cents each; Michael and Karen rode free.  She calmed down on the bus but still smoldered as she looked out of the window for the short ride into town.
The bus passed over the crumbling stone bridge on Mill Street with the old paper factory still underneath beside a dried up stream…  passed some service stations and rusty auto shops…passed the only Jewish synagogue before making  a right turn onto the very wide expanse of  Newburgh's Broadway.  Down the broad way past the Ritz and Broadway Theatres, the Texas Weiner Shop, Sears & Roebuck, The Hotel Newburgh and the Woolworths. Left and farther down to the old business district, the department store with the only elevator in the Hudson River Valley, down to the bus terminal at the ferry station to Beacon.
We got off at the last stop on Water Street on the river in front of  a sign that said "Newburgh Best All American City 1950 " That sign would soon be a lie and better entitled in the 1960's  – "Abandon hope all ye who enter here." George Washington may have disbanded his troops nearby but the welfare scandal, the "Battle of Newburgh," was just to begin for all the nation to see as documented on NBC's White Paper Series.
My mother was unusually quiet now as we got on the ferry, the warm breezes of the river blowing over us. Looking high up and across the river, I could see the abandoned funicular up to the very top of Mount Beacon so named for its Revolutionary War beacon fires to warn of approaching British troops.  I wish I had a warning system at home to signal my mother's tirades.
My brother and sister held tightly to my hands as my mother smoked a Kent Light up on the top deck. There were never any warnings of her outbursts and attacks at home.  They would flare up like Mount Vesuvius. The battle lines were drawn and as children we could find ourselves on either side of the skirmish. "Who do you want to go with, me or your father when we break up?" was often the war cry to recruit us to their side.
There was no Charon to guide us across the river to the sad city of Beacon, already a forlorn, once industrial river town. We walked up the steep Ferry Street to Main. Either the weather had turned warmer or our hike up the hill had all made us thirsty. My mother gave me some change to go to a corner German Deli. I plunged my hand deep into the icy waters of the Coca Cola chest to retrieve 4 small Cokes. We walked over to Memorial Park and sat on the beat up benches in the shade. Karen and Michael played on the swings.
My mother was crying now softly. I tried to hold her hand but she brushed it away. She was quiet for an hour. The ashes of despair were settling as we sat on that silent hill.  I am sure she was now realizing she had left home but had nowhere to go but back. She looked like the Trojan Women, overlooking a sacked city, realizing slavery or death were the only two choices allowed to her.  She handed me a dime and sighed with resignation, "Go call your father." We sipped our cokes as I watched some "negro" teen aged boys play softball on the nearby field.
Dad arrived one hour later and picked us up. We didn't' get out of the car on the ferry. The bridge would soon be built bypassing the two cities, abandoning the downtowns to outlying malls. My father drove slowly and carefully home as the radio played Percy Faith's hit version of "Theme from a Summer Place" on Newburgh's AM station, WGNY.
There's a summer place
Where it may rain or storm
Yet I'm safe and warm
For within that summer place
Your arms reach out to me
And my heart is free from all care
For it knows there are no gloomy skies
When seen through the eyes
Of those who are blessed with love
As we passed the Dairy Isle my Dad made an abrupt u-turn back into its gravel parking lot.
"What kind of sundae do you want, Jo?" my Dad asked my mother – "Hot Fudge Sundae with Vanilla Ice Cream."
-Détente-
"Anthony, get your mother some ice cream."
My Dad gave me two dollars out of his allowance that my mother weekly doled out to him. I got Karen and Michael a vanilla cone each with chocolate sprinkles; a swirl with rainbow sprinkles for me. I bought my Dad a dish of vanilla since he couldn't hold a cone in his shaking hand. We finished our ice cream before heading home. My mother gave the signal it was time  to leave by handing me her fudge smeared napkin to toss in the trash.
 I could see the grease stains on our black top driveway as we arrived home. Hand over hand, my father turned the big steering over and guided and glided our car over the spots and hid them from view.  My mother went ahead as my Dad shuffled in behind her. We all went to our rooms to change out of our clothes and put on everyday ones.
As I entered the kitchen, I almost stepped on the blob of vanilla, chocolate and strawberry ice cream that has spread out from its container. I mopped up the mess and ran hot water in the sink over the carton on to melt the rest before I could toss it into the garbage can.  I loved making it swirl round and round like the water circling down and around in the drain form the movie "Psycho."
Since it was Sunday night, I carried the two big metal garbage cans from the back yard to the front so the Town sanitation truck could pick them up Monday morning. My Mom fixed Dad a sandwich from the leftovers. At 8pm, we all gathered around our RCA television console set to watch the Ed Sullivan Show on Channel 2 – like we did every Sunday.