A Short Drama in Three Acts with Epilogue
by
Anthony Napoli and the Holy Spirit
Produced by the Sacred Heart CYO (Catholic Youth Organization)
Directed by William and Lillian Andersen  (a drama teacher and his over-weight wife)
Scenery by Joey Joe, the school janitor
Costumes by Beulah Politti, and her staff of old Italian ladies
Music by Miklos Rosza as adapted and taped by Fr. Dominic Leo, the parish priest.
PLACE:              Action takes place in two different areas and times:
TIME:                 Newburgh New York – 1964
                                Backstage and dressing rooms of Gallo Hall in the basement of Sacred Heart School
                             Jerusalem – 30 AD
                                 The Upper Room, Golgotha and a Tomb
CAST OF CHARACTERS
JUDAS……………………………………………………………………………………………… Anthony Napoli
Judas played by Anthony is 16 years of age with a lean, dark and hungry look similar to a young Basil Rathbone.
CHRISTUS…………………………………………………………………………………………………Marc Burnett
Marc is 17 years old with red hair, porcelain white skin and rounded muscles and plays The Christus as a  teenage Jeffrey Hunter.
MARY MAGDALENE………………………………………………………………………………….Betty Davis
Betty Davis is her real name; 15 years old but has been around. She would have played Rizzo in Grease if she were born later. – "If she coulda been, she woulda been."
ANGEL………………………………………………………………………………………………….…Louie Falco
  Louie is a beautiful 14-year-old Italian boy who later became a hairdresser.
ROMANS, PRIESTS, APOSTLES……………………………………………………….…Teen youth of the CYO
  Boys and girls 14 – 17 years old, all straight or so we assume.
Authors Note:
It is the weeks before Easter. Anthony after attending the parish's Passion Play the previous year is in rehearsal for this year's production.  A passion play is a staging of the last days of Jesus Christ, usually from the Last Supper to the Resurrection.
Sacred Heart's Passion Play is held in the school basement, called Gallo Hall. The hall was named for one of the founding pastors and is also the site of Saturday Night Bingo, School Talent Shows, Class Assemblies and Social Events.
The spectators sit on metal fold out chairs set theatre style with a center aisle facing a typical small grammar school stage.  The CYO, Catholic Youth Organization, produces the production and the cast is comprised of the parish club teens – sons and daughters of second generation Italians.
The hall is darkened and lots of colored gels should be used to set the stage. There is no scenery to speak of beside a long draped table for the Last Supper; a large wooden cross for the Crucifixion and a paper mache tomb made from a large refrigerator cardboard box for the Resurrection.
All the music is from the LP collection of Father Leo. It is comprised of cuts from the soundtracks of the film scores of Miklos Rosza's "King of Kings" and "Ben Hur". It has all been copied to an unwieldy cumbersome TEAC tape machine and is played over the school sound system. 
Beulah and her old Italian ladies of the church have made colorful costumes for the temple priests; plain rough canvass robes for the apostles; leather skirts for the Romans and a white cotton vestment with matching loincloth for Jesus. Wigs and beards are fashioned from strands of knitting wool and mop rope.
William and Lillian Andersen, a married couple that teaches at the local Junior High School, direct more like traffic cops. They move the crowds around the stage to make tableaux vivants. Lillian loves her pizza breaks during rehearsals. William likes to teach the boys how to apply stage makeup.
 The style of acting and mise en scene should be reminiscent of Luchino Visconti – operatic and passionate not unlike a silent movie staring Gloria Swanson and Ramon Navraro. Think Vincente Minnelli and his staging of "The Nativity" for the Christmas Show at Radio City Music Hall minus the camels.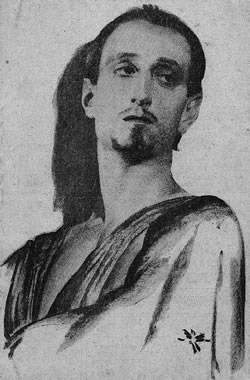 ACT I
SCENE ONE
Dressing Room off stage of Gallo Hall
ANTHONY
Hey Marc, does my beard look all right?
(ANTHONY looks back in the mirror and sees MARC taking off his t-shirt)
MARC
Hell, yeah it looks like Anne Marie's pussy but upside down!
ANTHONY
How would you know?
                            (Adjusting his beard)
MARC
I know more than you think I know…
(Giving a knowing look)
Here, can you make sure my makeup is covering the back of my neck?
(ANTHONY applies some Max Factor tan makeup on MARC's bare nape and shoulder)
ANTHONY
Let me do your back now so it will be easier later for the crucifixion. We don't want a white pasty Irish Catholic Jesus on the cross.
(As ANTHONY's hand moves over the small of MARC's back, it gets quiet. MARC catches ANTHONY's eyes in the mirror.
(BETTY DAVIS abruptly enters, dressed as MARY MAGDELENE)
BETTY DAVIS
Have you seen my jar of oil…(she stops) …Hey, what's going…?
(Silence)
ANTHONY
W-w-w were just going over lines.
MARC
 "One of you shall betray me"
BETTY DAVIS
Yeah?  Well get it over it Mary! (She chortles)
SCENE TWO
The Upper Room
CHRISTUS
Take and eat. This is my body. Take and drink. This is my blood of the new covenant.
                            (All share the bread and wine except for Judas)
MARY MAGDELENE
I am not worthy even to wash thy feet.
                            (She washes his feet and uses her hair to towel them dry)
CHRISTUS
Verily I say into you, before a cock crows three times, one of you shall betray me.
APOSTLES
Is it I? Lord, is it I?
              (Judas does not answer but knocks over a cellar of salt and runs off)

   (Cue the "Way of the Cross" from "King of Kings")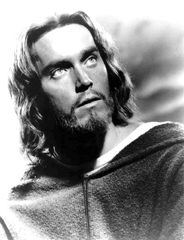 ACT II
SCENE ONE
Dressing Room
ANTHONY
It's gonna feel cold.
(He rubs his hands to warm them up as he slowly applies Johnson & Johnson's Baby Oil lotion all over MARC's chest)
MARC
Hey watch it! You're dripping it all over my costume!                        
ANTHONY
What costume? (Laughs)
(At this point MARC is wearing only a white loincloth)
MARC
Do my legs too.
(ANTHONY gets down on his knees and starts to apply the lotion, starting at the calves and eventually moving up MARC's legs)
MARC
Do I look sweaty enough? I love the way the light shines on my body when I hang up there.
ANTHONY
No, Shh! You need more.
 (Shaking the bottle to get some last drops of the oil out)
Hold on, I missed a spot.
(Applying some to his inner thighs)
(Their eyes meet)
(Silence except for the off stage music cue of the "Way of the Cross"

theme from "King of Kings")
(ANTHONY's hand flutters up lightly touching the outer rim of MARC's garment. He holds his breath and his finger still. Both do not move for a few beats)
MARC
 Line… Line    What's' that line? Damn …"Into thy hands I commend my spirit" Oh yes.
                            (Breaking the freeze, he runs off almost late for his entrance)
ANTHONY
"Lord, I am not worthy"
                            (Cue the ROMANS and the TEMPLE PRIESTS)
SCENE TWO
Golgatha
CHRISTUS
They know not what they do.
(Hanging on the cross, his feet resting on a little wooden platform to hold him up)
TOWNSPEOPLE
Crucify Him!
(Shouted out very angrily doing the citizens of Oberammergau proud)
ROMANS
Isn't he one of them?
(Some CYO macho boys dressed in leather skirts point at Judas)
HIGH PRIEST
For 30 pieces of silver, he betrayed him with a kiss!
                            (Eerily looking like Fagin from "Oliver Twist", he spits at Judas)
JUDAS
I have sinned against God and Man!
(Judas runs out in great despair, hands in air like a Yiddish actor playing the storm scenne in "King Lear.")
CHRISTUS
Into thy hands I commend my spirit.
(With a great sigh)
(Cue the thunder)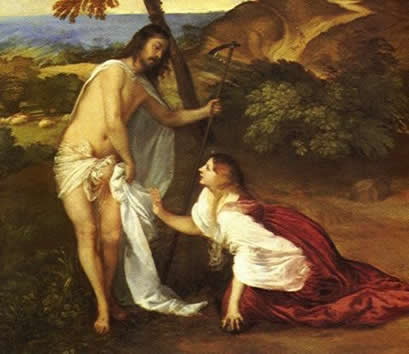 ACT III
SCENE ONE
Backstage
MARC
Whew, I am glad that's over till next year.
                            (ANTHONY helps MARC down from the cross.
                            He grabs him around the waist and lowers him)
ANTHONY
Damn you're heavy. You smell like a baby's bottom.
(As the descent continues, ANTHONY slips slightly and holds him tight in his arms as they gently crash onto the stage floor. They lay still for a moment like a Pieta)
MARC
"In three days I will rise again"…
ANTHONY
                       (Prompting him)
"Lo today you will be with me in paradise!"
(They both laugh and rise)
(Cue the Resurrection)
SCENE TWO
A Tomb
MARY
I have brought my oils to anoint my Lord but they have rolled the rock away and there is no one in the tomb.
(A blinding light shoots out of the tomb and a handsome boy appears all in white)
ANGEL
Why seek ye the living among the dead? He is not here? He is risen as He said!
(He stands akimbo like  Donatello's David)
CHRISTUS
                       (Suddenly appearing upstaging the Angel, hands raised to the heavens)

  (MARY draws near to Him)
Do not touch me! I have not yet ascended to my Fathter.  Remember me. I will be with you always even onto the end of time.
MARY
Alleluia! Alleluia! Alleluia!
(She drops the jar, swoons and runs off stage almost knocking down ANTHONY standing on a chair with a rope around his neck)
(A brilliant magenta gel shining on the Risen Christ overcomes the shadow of Judas dangling from a tree)
JUDAS
I am damned!
                       (The 30 pieces of sliver roll down stage)
(Cue the "Alleluias" from the finale of  "Ben Hur")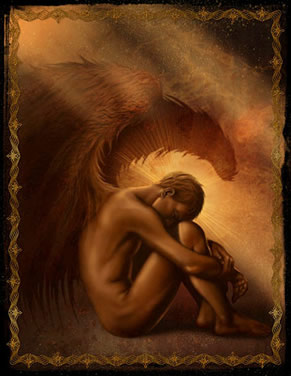 EPILOUGE
Dressing Room
MARC
Grab me a towel pal.
 (He tries to wipe the baby oil encrusted makeup from his back)
ANTHONY
Hey dummy, you missed a spot.
              (ANTHONY towels his back)
   (He sings softly)
"Oh Lord, I am not worthy…
Another openin', another show
 From Philly, Kansas and Balti –mo"
Hey, I think you need to take a shower to get the rest.
MARC
My Dad is out of town– wanna go up to my house and hang? You can help me get this crap off.
ANTHONY
Sh-Sh-Sure
(Quietly ANTHONY cleans MARC off. Taking his time, turning over the towel over and over, restoring MARC'S skin from Max Factor #5 tan to his natural Carrara Marble white, He notices his blue veins, light freckles and wisps of red hair on his arms.)
(Continues to sing lightly)
"A chance for stage folks to say hello
Another openin' to another show.
Strange dear, but true dear
When I'm close…."
(He stops as BETTY DAVIS slinks in dressed in a new Montgomery Ward A-Line dress; shorter than she was allowed to wear at school)
BETTY
Hey Marc! You were great tonight! You shined! Mrs. Andersen has invited me out for some pizza? Wanna come along?
                            (She poses in the doorway)
MARC
Wow, Yeah!      
(Stunned at the transformation from Mary Magdalene to Teen Dream)
I am starving!  Yeah lets do it.
                            (BETTY and MARC start to exit but stops…)
Hey Tone, do you mind…?
                            (A long embarrassing pause)
ANTHONY
Oh s-s-s-ure, go ahead, I am tired anyway.
(Singing under his breath)
"That's why the Lady is a tramp."
MARC
"Night Anthony.
ANTHONY
'Night Judas. 
"Same time, next year?"
MARC
Huh?
                               (ANTHONY doesn't answer as MARC and BETTY exit)
(ANTHONY stands there alone, holding the towel and the empty Baby Oil Lotion. He takes the noose off around his neck and starts to take off his shirt, changing out of his costume)
ANTHONY
(He sighs, standing like Ave Gardner as Julie LaVerne on the dock at the end of the movie "Show Boat")
"Fish gotta swim
 Birds gotta fly…
I gotta…"

A FIGURE
(And suddenly there was a figure in silhouette appearing in the doorway, framed by the bright lights from the stage)
Where is Marc?
ANTHONY
"He is not here."
(Silence)
(ANTHONY wipes the sweat off his brow. It is red from the makeup)
A FIGURE
Hey, you missed a spot on your back. ( he draws near)
(A drop of Baby Oil Lotion has dripped on a magenta gel and fills the air with an incense of innocence)
(Father Leo has forgotten to turn the TEAC tape player off and the "Alleluias" from "Ben Hur" can still be heard offstage)
CURTAIN
******************************************
2008
POST SCRIPT
The following year, Anthony decided to write his own Passion Play called, "The Road to Golgotha."
I discovered a copy of the script in that bottomless cardboard box my sister found in the family attic this past summer.
He made Judas a sympathetic character that acts with Jesus to fulfill his plan of redemption.  How curious that it is so similar to the controversy over the recently discovered "Gospel of Judas". Both have the same basic premise.
The CYO never performed it. 
After re-reading the script, I thought it best that is stay unpublished and remain on the bottom of the box of ones youthful attempts. However, it inspired me to write the above Pirandellian  "Mystery Play" based on true incidents.