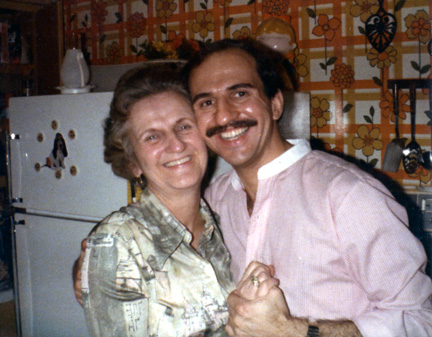 1979
(one of the last pictures taken with my mom)
I guess a boy's first Valentine is his mother.  In second grade our teacher announced we were going to make Valentine Day cards. Mrs. Morris was one of the few lay teachers at our Catholic grammar school of St. Thomas Aquinas in Brooklyn. She handed out multi-color sheets of construction paper, white paste glue, pipe cleaners, glitter and those funny stubby scissors that couldn't really cut anything.
I constructed a glittery Valentine for my mom. I was proud of this crude hand-made arts & crafts token of my love for her. I carefully brought it home; pressed flat in one of my schoolbooks. When she wasn't looking, I placed it on the kitchen table; the 1950's kind of table with chrome legs, flamingo colored Formica top and matching vinyl covered chairs. I sat down at the table and pretended to do my homework.
My mother came back in with a frilly apron on, getting ready to cook our supper, which we promptly ate every night at 5:30 pm. It seemed hours before she noticed the big read heart I had laid out before her. She picked it up and held it at a distance. "What is this? Why, thank you." She gave me a demure Mona Lisa like smile of disappointment. It took me a few years to figure out that hand made gifts were not as appreciated as store bought ones.
As I grew older, Valentine's Day found me at the local drugstore. I would go to the card section and pick the biggest flowery card I could find. At that time in the card section, you picked up a sample card sort of sealed on cardboard with a code number on it. You then handed the druggist the sample and he would open the drawer below and hand you the card out of a file with the same number on it. When I got bolder I would go to the drawer myself and select the Valentine. They got more lacey as the years went on, one of them even had a little silk tuft of sachet. Next stop was the candy aisle for a large red, satin heart-shaped box of Russell Stover or Whitman's candy.  Over at the next aisle was the toiletry section for a bottle of Jean Nate Bath Oil or a round canister of "Evening in Paris" talcum powder. Like the gifts of the Magi, I made these three offerings to my mother from her adoring son. She smiled.
1982
The next serious Valentine is usually your husband or wife. Mine was for my boy friend, Gary. Having learned my lessons, I bought him a Hallmark Peanuts card with Snoopy on the front cover, Teuscher chocolates flown daily from Switzerland and a bottle of Lagerfeld eau de cologne.  I had them displayed on my dresser in my bedroom alcove in my West 83rd Street walk up in Manhattan.  He would be sure to see them as we arrived back after dinner at Forest & Sea Restaurant. We tipsily climbed up the creaky stairs to my fourth floor studio. I unlocked the Police Lock bar of the #4A apartment door and Gary went straight to the bathroom to brush his teeth. I lay coyly on my pink chenille bedspread like a Burt Reynolds Playgirl centerfold. Gary came over kissed me lightly and saw his gifts. He opened them gingerly making sure he folded up the ribbons for future re-wrapping.  I was given that same La Giaconda smile that I remembered from long ago. Hmmm? So I went back to the drawing board. I am a quick learner.
The following year, I wrote Gary a hand written poem that I took a long time to compose.  I dropped it in the post and it arrived as planned on February 14th. I handed him the daily mail and as he went through it, he noticed one was addressed to him. I tried to disguise my scrawl so he wouldn't know it came from me. He opened it and read the missive. He gave me a big Dustin Hoffman – "The Graduate" like grin from ear to ear – this time more Cheshire Cat than Mona Lisa.
I got nothing back that day but his generous smile. That smile funnily enough would stay with me for 25 years … each day being Valentines Day.
My funny valentine
Sweet comic valentine
You make me smile with my heart
Your looks are laughable
Unphotographable
Yet youre my favourite work of art
Is your figure less than greek
Is your mouth a little weak
When you open it to speak
Are you smart?
But dont change a hair for me
Not if you care for me
Stay little valentine stay
Each day is valentines day
Rodgers & Hart