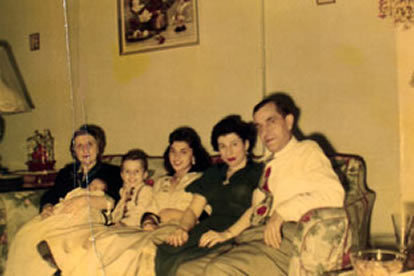 The Bronx
Nonna, Baby Michael, Me, Cousin Viola, Aunt Mary & Uncle Nick
My Aunt Mary was a life force in my childhood. Well no one called her Aunt Mary. We all called her Titsie!  This was a corruption of Tzia, Sicilian for aunt, but as a child I pronounced it TIT-ZEE. Unbeknownst to me, this was a great joke. Aunt Mary had a great pair of knockers, as Bette Midler would say, so TIT-Zee was an appropriate malapropism. She wore Lana Turner-tight cashmere sweaters, jungle red lipstick, and was the spitting image of the great Italian actress Anna Magnani. She spoke English with gusto in a thick Sicilian accent.
My aunt was a consummate cook and I have never tasted a better meatball than the perfectly round ones she made. My Polish mother came close since she was under her tutelage and was ordered by my father to cook Italian. Aunt Mary prepared full meals every night for her husband, whom I called Uncle Nick. Sunday dinner at 1pm was the main event for all the family: macaroni, with meatballs, sausages and braciole followed by roasted chicken with rosemary flavored potatoes and escarole sautéed in garlic with lemon. Dishes were cleaned up, dried and put away. The table was cleared and re-set with mixed nuts; finocchio, espresso and store bought Italian pastries. Then we would start all over again in the evening with sandwiches made with the leftovers.   We never went out to an Italian restaurant. Why would we? Indeed, I don't remember my aunt ever going out to eat. Nothing came up to her standards.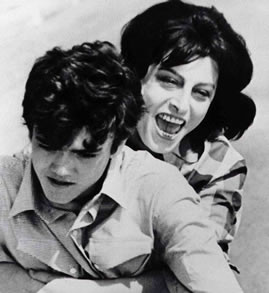 Famous Italian Star Anna Magnani
On a cold November weekend in 1959, my parents had yet another one of their bitter fights so my Dad and I were stayed with my Nonna on Beaumont Avenue in the Bronx.  Aunt Mary and Uncle Nick lived upstairs as was typical of Italians in a average middle class Bronx tenement building.
That Saturday night, Titsie looked at me knowingly and asked if I wanted to go to the movies with her. In those days, one never checked a schedule for movie times. You just went to the theatre and walked in and caught the film in progress. You stayed till the movie started over. Hence the phrase: "This is where we came in."
It was a chilly, damp eveing as we drudged up the gray dirty snowy streets of Fordham Road. I was dressed in a red/black checkered wool plaid winter coast, my aunt in chartreuse overcoat and colorful kerchief. She puffed on her Camel cigarette like the "little engine that could" going up the steep Fordham Road hill. My aunt didn't just inhale; she sucked the smoke in like a vampire and made a lip smacking popping sound as she exhaled. She did everything with gusto.
We crossed under the Third Avenue El as the subway cars careened and shrieked around the tight corner of the Sears & Roebuck Building. Up the hill we went passing many small emporia: a haberdashery that sold ladies lingerie, a hosiery store with nylon stockings in neat little cardboard boxes, a cigar shop and pawn place with those three golden balls hanging over the doorway.
We stopped first at the Valentine Theater on Valentine Avenue. Last Train from Gun Hill was playing. It was as a Western but I was confused since I knew there was a Gun Hill Road in the Bronx so how could this be a Western? As my aunt looked at the lobby cards, I looked longingly up Valentine Avenue to Jahn' s Ice Cream Parlor, hoping my aunt would get the hint. They were famous for their "kitchen sink" ice cream sundae. "Too much shoot 'em up," she said sounding eerily like an Italian John Wayne.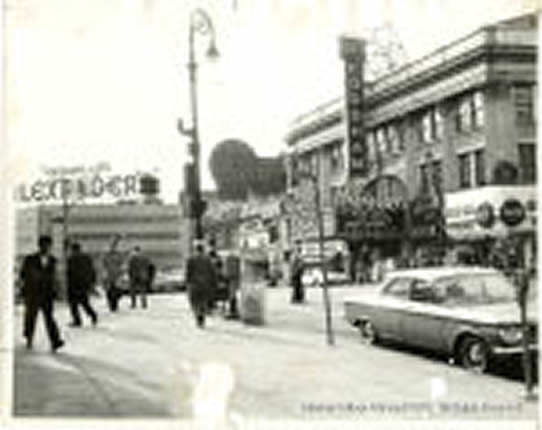 Right up the block was the RKO Keith Fordham, a huge movie palace. My aunt said she didn't like war movies so we didn't get to see South Pacific. Past the army recruiting station, over the Grand Concourse with Krums famous Candy Store and the Loews Paradise, rounding the catty cornered huge Alexander's Department Store for a few more blocks to the second-run little movie theatre, the Lido. And lo and behold, guess was playing that epochal night? Auntie Mame!
My aunt paid her 75 cents adult admission and my 35 cent children under 12 admission – no popcorn, too expensive!  We walked in as Mame Dennis was "hung" over in bed with her attendant nephew Patrick. Auntie Mame is an iconic movie for gay men starring one of the actresses in the homosexual pantheon of divas, Rosalind Russell. Roz was a hard-hitting actress, strong, tough almost masculine in her drive with acid wit. His Gal Friday behind her, her Mama Rose of Gypsy was still to come.  How did my Aunt Mary know to take me to see that movie out of all the others? Maybe it was just coincidence or maybe Titsie just knew best.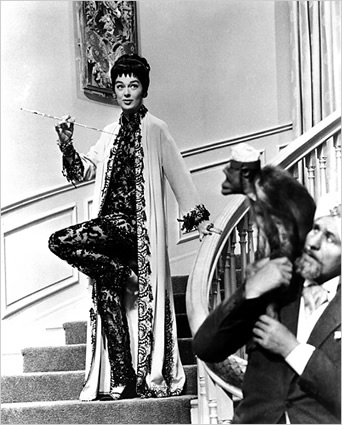 Roz as Auntie Mame
How ironic and momentous was this? Almost like Oedipus meeting the Sphinx and receiving his fateful knowledge. Little Anthony, gay boy in the making – sitting in a darkened movie theatre next to his Italian Neorealim Aunt – watching Rozalind Russell as Auntie Mame. Was this the crossroads where it all began?
"Live! Live! Live! Life is a banquet and most poor suckers are starving to death!" "This is where we came in", Aunt Mary announced as she bundled up her coat and marched up the dark, dark aisle of the Lido. Out we went into the cold, the Jerome Avenue El to our right, farther right was the original Loehman's where once my Aunt dragged me into a communal dressing room to try on a prized acquisition.
Dazed, blinded by the snow, over the Concourse and through the turf of The Wanderers, we went down the sloping hill of Fordham Road. I slowed down like a puppy on a leash that does not want to go home as we crossed Valentine Avenue. Then my Auntie Mame gave a shove to the left as she dragged me around the corner to Jahn's. Sitting at a booth, we shared a hot fudge sundae. She looked across the formica table, stared me deep in the eyes and said: "I'ma your Aunt Mary, don'ta you forget it." How could I forget it? I would remember what she said to me again in 1972 when she took me in for three years to live with her and my Uncle Nick when I went to graduate school. We didn't have the "kitchen sink" that night; I had everything else but…
Life is a banquet and I have lived my life every day like my Aunt Mary – braving the elements to see a movie, standing over the stove watching the sauce bubble, savoring the leftovers, snatching up a bargain with brio and shouting Aha! And inhaling life and exhaling with a gusto.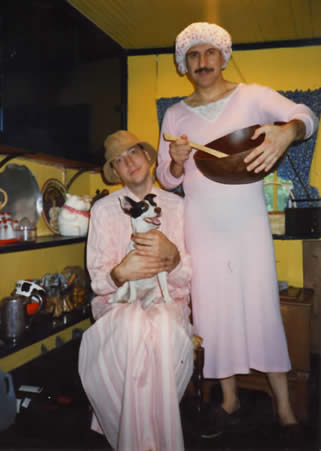 Live! Live! Live!