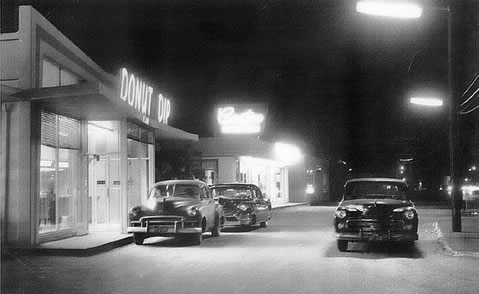 On Beaumont Avenue in the Bronx in my Nona's dark tenement parlor sat a rose pink convertible loveseat. The diminutive but massive piece of furniture was upholstered in a flamingo, shiny hard fabric with interwoven silver threads. It was boxy in shape with two large armrests. I could set my plate of pastina with melted butter on one side and my glass of milk with Bosco on the other. It was manufactured by the popular New York City based, Castro Convertible Company and featured a "feather lift" mechanism.
In the 1950's, you couldn't escape their commercials on the local channels that catered to the NYC's lower middle class, all of whom had limited living space after the war. It was the perfect answer to a family living in cramped quarters.Bernard Castro, the founder, filmed his 6 year old daughter Bernadette with his 16mm camera. She daintily demonstrated how easy it was to open –"so easy a child could do it". An Italian looking young girl dressed in a white nightgown would lift, snap and drop. "You just take it and pop it straight up." As if my magic, the "Castro Convertible Girl" with her little pinky, would gently slide it up, out and over. When it was time for bed, I became the ten year old "Castro Convertible Boy" and would emulate little Bernadette, gracefully flipping open the bed. Sometimes I would close and open it several times as I sang the jingle:
"Who was the first to conquer space?
It's incontrovertible!
That the first to conquer living space
Is Castro Convertible!"
During the day and before bedtime, Nonna would preside from her mauve throne munching tiny brown salted nuts as she watched a wrestling match on the Dumont or listened to Carlo Buti on The Italian Hour on the Philco. Sometimes I would sit next to Nonna, fitting so snuggly close that I could smell her black dress redolent of camphor balls as she crocheted lace doilies and antimacassars. But at night, the pink Castro convertible was mine. I loved my couch set with its harshly wrinkled white cotton sheets that I somehow never wet even though I did that often in my own bed at home. My little twin bed sat directly in front of the TV so I often fell asleep watching over and over again, "La Strada" and 'The Tales of Hoffman" on The Million Dollar Movie as the "Star Spangled Banner" played and the sign off signals appeared. The gray dull glow encircled my dreams until finally Nonna would stomp in from her bedroom and snap it off in a huff saying "Who do you think I am?  Con –the- Edison!"
In the 1960's, I often spent weekends alone with my Dad and Nonna. My father would first drop off my mother with my brother and sister in Brooklyn to spend the weekend at my other grandmother's house. I would wander the Arthur Avenue neighborhood by myself stopping in at the church for some holy water, visiting chickens at the live poultry market and tasting samples at the numerous grocery stores. I would go shopping with my Aunt Mary at the stalls at the Retail Market and witness her interrogations and negotiations with the butchers, produce vendors and dry good merchants. I sometimes tagged along with my Cousin Viola (who looked a lot like Bernadette Castro), when she went to her CYO meetings in the Mt. Carmel Catholic School basement.
I explored the nearby Bronx Zoo countless times, especially the Monkey House, where my mother joked that I was born. I used a special "Elephant" shaped key that you stuck into a box in front of a cage to get the story on the animals pacing back and forth inside. I knew the place inside and out. I even ventured on my own to Freedomland, an amusement park, making multiple bus and train connections to get there way off in Pelham Bay. At Freedomland, I would mail letters to myself via the Pony Express Office from Little Old New York to San Francisco while watching the drama of firemen putting out the great fire of Chicago. Exhausted from my journeys, I would flop into my little bed and watch Perry Mason and Sea Hunt with my Aunt Mary who would often stop down from her place directly over Nonna's.
One big weekend my uncle Carmelo, my father's older brother whom he had not seen in 30 years, moved to America with his entire family from Sicily. They were staying with Nonna before moving on to Chicago. My cousin Vito was my age and spoke no English but somehow we communicated as I showed him around. We sort of looked alike and all of the neighbors thought we were brothers. We shared many Saturday nights in my bed giggling as we watched Sonny Fox and I couldn't help notice his pee-pee was different than mine. Let's just say it was European.
In the 1970's, Nonna decided to finally to move in with my Aunt Mary who had moved away to Queens several years earlier. "Titzie" and Viola had purchased a brick mother/daughter house in Woodside. Nonna was always welcome to live with them but she refused to move from her beloved neighborhood. Besides she was a very proud and fiercely independent Italian matriarch, widowed now for 50 years. However, the area was changing and she was no spring chicken anymore. So, when I told grandma I was moving into my first apartment (after just recently getting my MFA) she offered me to take whatever I wanted from her place. She was moving to Queens. It was the excuse of helping me which would save face, the precious "bella figura". Nonna had always been so good to me, me being the first grandson and little prince. When I was in graduate school, she had even bought me my first car, a brown Toyota Corolla for $2,450.
So with my friends, I packed up the entire contents of her home including a beautiful art deco wall mirror and bedroom set, the Dumont TV, the Philco Radio Console, five and dime store dishes, sheets, towels, pots and pans, an old toothbrush and an old pair of flesh colored pantaloon panties. Huffing and puffing, it took four of us to move the Castro Convertible sofa to the van, It had a bad center of gravity making it difficult to maneuver. Like Tony in "Saturday Night Fever", I crossed the Brooklyn Bridge "in reverse" to Park Slope. It was a hot July afternoon and we sweated lugging the sofa up to my new 4th floor walk up on Garfield Place. We had to force it around several tight corners, stopping on each landing. It almost broke the banister we wedged it in so tight.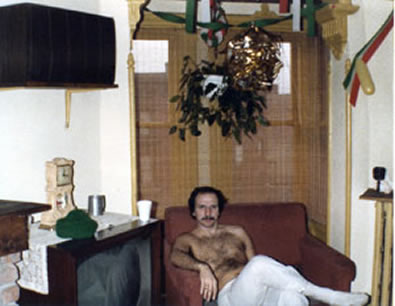 This is the only picture I have of the sofa. It is a morning after shot taken in my Park Slope apartment alcove but it has many clues. If you look closely you can see Carnevale decorations hanging from the ceiling. I still have part of my "Close Encounters of Third Kind" alien costume on with makeup. You can see a votive light on the radiator on the right that I had lit for the previous evenings afterglow romantic encounter of the first kind. Note the empty wine cups on the Phico TV and the green knit cap. It belongs to a leprechaun sleeping exhausted in my bed across the way.
I set it with pride of place in the triple exposure bay window alcove overlooking Seventh Avenue. You could see the Statue of Liberty from it, far out in the bay. I often read the Sunday Times there, resting a mug of coffee on one arm and the crossword on the other. It was also a perfect place to seduce an unsuspecting date. I would suggest sitting there for the view, get us wine and then sit down right next to him so close. Eventually an arm went around his shoulders and soon thereafter I was demonstrating the sofa's "feather lift" mechanism.
The couch saw many parties, hosted numerous trysts and slept overnight guests of my roommates, Loretta and Fran. If that couch could talk! I swore one night it opened up by itself because in the morning it was magically agape. We all swore no one of us had touched the bed but there it was, open as silent witness to god knows what drunken revelry. The morning after one wild Carnevale party we discovered a guest had thrown up all over it. There he was asleep, not on the sofa, but propped up behind its backside. Since he was from India, we called him the "Bombay Bomber."
Right before the 80's began, I moved to the Upper West Side of Manhattan into an L shaped studio of my very own on West 83rd Street. Fran had already moved out and Loretta had gotten married so the place in the Slope was just too big for me. Once again my friends helped me move.
Down the stairs went Nonna's huge art deco mirror, Dumont TV and Philco phonograph console. The double bed with Nonna's yellow chenille bedspread went too. It didn't dawn on me till a few years later that it was the very bed I was conceived on back in 1947. If my parents only knew what had happened on it since! When it came time to move the Castro sofa out, we got it down to the third landing and once again, it got stuck around that tight bend. This time however try as we may, we couldn't get it around the corner. So with much sadness we hauled it back up and put it back in the alcove. I was going to leave it behind for the next tenant.
Before we pulled away, I ran upstairs, and like Madame Ranevskaya in Chekov's The Cherry Orchard, I took one last walk around. It was broom clean and ready for the newcomers. But there in the sunlit bay window sat my now faded pink Castro Convertible Sofa. I sadly approached it and with a flick of my wrist, I lifted it up and popped it open. I lay down on it and looked up at the water rust stained ceiling. Like spotting the likeness of the Virgin Mary in a tree bark with my eyes half closed from squinting from the sun streaming in from west, I imagined seeing in those stains  the faces of Nonna, Viola, Vito, Aunt Mary, Fran, Loretta, monkeys,  myriad lovers and the "Bombay Bomber."
I jumped up startled when I heard my best friend, Michael yelling my name up from the street. I must have gone out like a light for a minute or two.  I sighed, looking down at the pink convertible and like the angelic Bernadette, the "Castro Boy" closed the sofa for the last time with one last effortless, graceful motion.
Who conquers space with fine design?
Who saves you money all the time?
Who's tops in the convertible line?
Castro Convertible!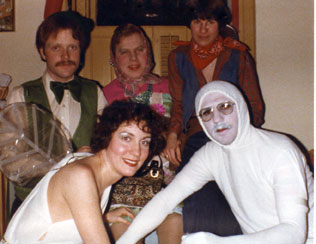 Carnevale 1978
Me as the Alien, Loretta as the White Rock Girl and Bill Donavan the 6 foot Leprechaun