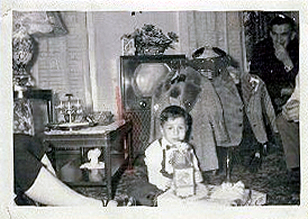 At this time of year, my mother had all of her Christmas shopping done. This triumph of planning was complete actually by Labor Day.  Back in the 1950's my mothers strategy was based on the Layaway Plan and Christmas Club Payments.
Before credit cards there was layaway, a way to purchase an item without without paying the entire cost at once. However, rather than taking the item home and then repaying the debt on a regular schedule, my mother did not receive the item until it was completely paid for. There was typically a fee associated with a layaway purchase, since the store must "lay" the item "away" in storage until the payments are completed. In the event my mom did not pay the amount due, the item would be returned to stock and any payments would be forfeited.
My mom typically bought our clothes on this plan. She would drag me to the store in August to try on winter snow suits and sweaters. They were "layed away" until December till they magically appeared under our Christmas Tree. Gee, how did Santa know which store to go to to retrieve my coat?
The other plan was payments to a Christmas Club. Right after the holiday, my mother went to the bank and opened up a few accounts in different denominations. You got a payment book filled with dated coupons that you gave to the bank teller with your money. I was forced to open one for $20 and pay into it out of my allowance so I could buy gifts for the family. I made my weekly payments of 50 cents till I would receive a check in November. There was no interest on the account but the bank did give you some free cheap gift like a calendar or plastic Santa or snow globe.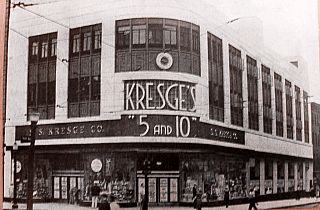 So in December of 1957 being 9 years old I went by myself with $10 to Kresge's on  Fifth Avenue in the Park Slope section of Brooklyn. Kresge's was a typical 5&10 cent store with displays of items piled in heaps on long counters.
I bought a floral lace handkerchief set for my grandmother and a brown handkerchief/tie combo for my Dad. Mom got a set of note cards with nature scenes. But Uncle Joey got a  LP of "Rhapsody in Blue" that  I bought for 99 cents in Merkels across the street from Kresge's. Merkels was a Brooklyn chain of meat markets.  You would order  your meats from the butcher who would prepare to your order. Then he handed you a piece of paper with the amount on it that you brought to a cashier who sat in a little white booth. You paid in cash as she stamped it "paid." You then went back to the butcher dressed in white apron and retrieved your brown paper wrapped parcel that was clammily cold to the touch and had that sour freshly cut meat smell.. Merkels went out of business a few later for supposedly selling horse meat.
On Christmas Day I proudly gave out my presents.  I would wait breathlessly as they opened their clumsily wrapped parcels. I watched as they may or may not have feigned wonder and joy at my simple gifts. I opened up my presents and smiled knowingly as I pulled out a red plaid woolen snow suit .