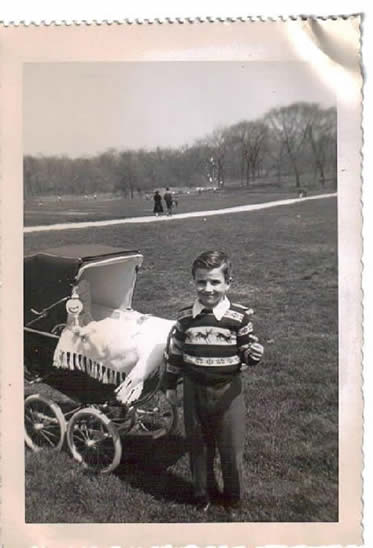 The grand city parks of New York City are filled with families, tourist and friends in May. Central Park sometimes has two parades around its perimeters while sunbathers bask in the sun on Sheep Meadows. This picture is of little Anthony in that other great park, Prospect Park circa 1956.
I suspect my little sister Karen is sleeping on the Long Meadow in that grand baby carriage!
I remember that my mother and I would go the big Brooklyn department store, Germain's and leave Karen outside while we shopped. Imagine that today!! The front of the store was lined up with carriages while mothers were inside the store. Oh there were the watchful eyes of a brother or sister who would come out once in awhile to check. There was always someone around and it was the thing to do. How could a mother shop? That huge perambulator would never fit down aisles!