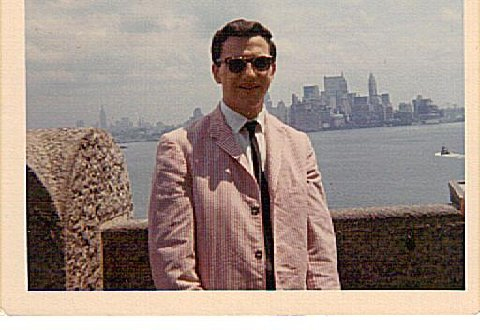 So can you guess I am standing on the parapet of the base of the Statue of Liberty? And did you notice there are no World Trade Towers?  So here I am in 1968. I took my 12-year-old sister on the Short Line Bus from Newburgh, NY for a day trip to NYC.
As you can see we visited the Stature of Liberty in the morning. We had lunch at Tad's Steak House ($1.99) in Times Square on 50th Street. Or sirloins were followed by a matinee performance of the then racy production of the Broadway musical Cabaret (before the awful "revisionist" Roundabout Production in 1988 – UGH!).  Tickets were $4.95 for good orchestra seats for matinees shows.
After the show we ran to Port Authority to catch the 5 pm bus back to Newburgh where I was in exile.