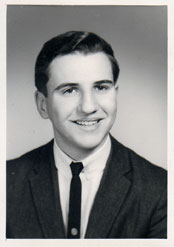 The Freshman & Sophomore Years
1966 -1968
In the fall of 1966, I attended Cathedral College, a preparatory seminary for the Archdiocese of New York.
Cathedral College was based on the old 6 year school system of 4 years of high school combined with college freshman and sophomore years. The final 6 years of junior and senior college years and 4 years of graduate work would be at St. Joseph's Seminary up at Dunwoodie, Yonkers, NY. The school itself was on the corner of West End Avenue and W. 87th Street.  The dorm, known as the Bishop Ford Residence was on W. 86th Street between Columbus Avenue and Central Park West.
The West Side was not what it is today, the residence of the up and coming sophisticate. It was a raucous, dangerous, teeming collection of artists, pimps, drug dealers, Bolsheviks, liberals, homeless, struggling actors, musicians and students. The avenues were lined with decaying storefronts of Irish bars, Flea Market Thrift Shoppes, Chinese Laundries, Greek Coffee Diners, Jewish Dairy restaurants and SRO hotels. No one ventured above W. 72nd Street then known as Needle Park unless you lived up there.
After graduating NFA, Newburgh Free Academy, I enrolled myself for the study of the Roman Catholic priesthood. Of course, this was a big step for a boy to take. My mother, who you think would be ecstatic about being the mother of a priest, was not. She wanted me to get a job and contribute to the household. I had higher aspirations, priesthood or not and this conflict would escalate with her in the coming years.
The Bishop Ford residence was set up for the students from the upstate counties of the diocese. Classes were held Monday to Friday and we were free to go home on weekends.  The residence was a classic five -story limestone townhouse -first floor was parlor and dining room, second floor chapel and the upper floors were the sleeping rooms.
Since I was a freshman and sort of upper class to the high school attendees, I got to share a dormer room on the top floor facing 86th Street. My two roommates were Bob and Charles. Bob was in the top bunk, me on the bottom and Charles had his own single bed. There was a sink in the room, one closet and one communal bathroom per floor.
The day my mother dropped me off was very emotional. My father waited in the car since he could not come in due to his Parkinson's disease.  My mom came up and as I dropped my valise on the floor we both burst into tears.  It was the first time I would be away for any extended period of time.
 My roommates were great guys. I am still in touch with Bob who lives in North Carolina. Every night, Bob would hop onto his top bunk, reach down and shake my hand and say good night when it was lights out. I dreamed of Charles in his single bed and longed to be next to him. I lost touch with Charles years later after an intense homo-erotic friendship.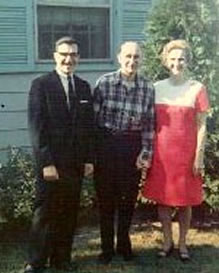 Me, Dad and Mom
I was so excited to be back in New York City after my forced exile in Newburgh. I didn't need a car to get around and I was free from my parents glare. The subway was my chariot. During the first week of classes I snuck out to see my first Broadway show at a Wednesday matinee.  For $3.75, I saw "Funny Girl" starring Mimi Hines who was great and had just replaced a then unknown to me, Barbra Streisand. I became a Broadway Baby and attended theatre at least once a week.  As a freshman, I got the keys to the front door so I could sneak in at night after curfew.  Some of the shows I saw that first year were:
Fiddler on the Roof
Man of La Mancha
Hello Dolly
Cabaret
The Rose Tattoo
Marat/Sade
Annie Get Your Gun
The Apple Tree
Right You Are, If You Think You Are
I Do! I Do!
Ilya Darling
Galileo
Hallelujah Baby!
Mame
Royal Hunt of the Sun
The School for Scandal
Cathedral College was a great place to study. I received a classic education of Latin, Greek, English Literature, Philosophy etc.  I had 32 classmates from all walks of life form Staten Island to Saugerties. They were mostly middle class immigrant sons: Irish, Italian, Polish, Puerto Rico and one Negro. We studied hard, prayed a little and played a lot in Central and Riverside Parks.  We wore jacket and tie to school and prayed in the chapel before dinner every night. Our Irish cook and sort of den mother, Mary prepared wonderful home-style meals on the first floor dining room of Bishop Ford. The two priests who resided with us never ate with us. In the evenings, sometimes we pulled all those college pranks what adolescent boys are wont to do from shorting of sheets to water balloons to snapping of towels in the showers.  We night we entirely dismantled a freshman room and set it up
in the basement.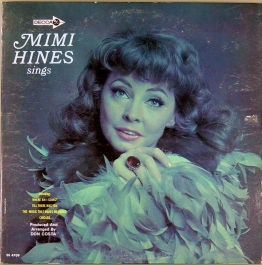 To save the five dollar round trip bus fare to and from Newburgh, I stayed the weekends at my grandmother's for the first few months. I would take the R train to the last stop at 95th Street in Bay Ridge Brooklyn.  My Polish grandmother would make dinner for me and my two uncles at 7pm. My uncle Eddy owned a fruit and vegetable store in the Sunset Park section and my Uncle Joey was a night watch man at Metropolitan Life. By 8pm both were gone for the night, one off prowling and drinking with his doll and the other uncle off to his nightshift.  I was alone with my hard of hearing grandma who went to bed at 8pm.
The first weekend there I turned on the radio after grandma went to bed and listed to very first opening night of the new Metropolitan Opera House at Lincoln Center. Since grandma was asleep and deaf anyway, I turned up the volume way up and listened to Samuel Barber's, new opera, "Antony and Cleopatra".  It was difficult opera but Leontyne Price was in glorious voice.  I fell asleep on the kitchen table listening to Cleopatra's final aria: "Give me my robe, put on my crown; I have Immortal longings in me."
On Saturday, I helped my uncles in their store while my grandmother washed my clothes by hand and hung them out to dry from the 3rd story clothesline strung across the alleyway. It was an old fashioned fruit and vegetable store. The Old Norwegian ladies would select their produce and I would weigh it on a big white enameled scale that hung from the low ceiling. I would calculate the price in my head and write the amount on a small brown paper bag and put apples, potatoes or turnips in it. After all the weighing was done, I grabbed a brown shopping bag, took the pencil from behind my ear, licked the point and wrote all the amounts down ant tallied them up. I made change, put all the purchases in the shopping bag and handed the bag to the lady. I always was courteous and remembered to thank them very much and wish them a good weekend. Sometimes I delivered the packages and got a quarter tip.   My uncles gave me 5 dollars and I used this to see my beloved Broadway shows. The store was closed on Sunday as were all the stops except for the drugstores.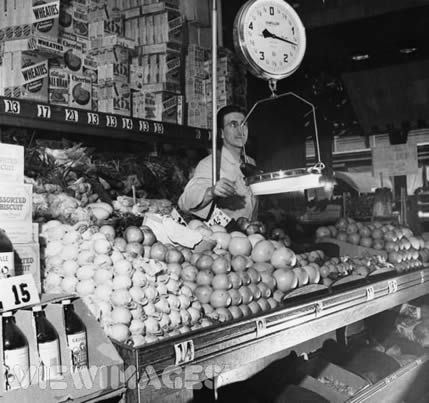 Before Saturday supper, my grandmother would polish my Uncle Ed's shoes and  in a childlike game sort of way, he would say , "Thank you Mama", and  give her a one dollar. She would then hand him a white stiffly starched shirt and he was off gallivanting around. I was alone again and I would often be susceptible to Saturday night fevers. Sometimes I went to the Harbor Theatre on Fourth Avenue to catch a double feature. Sometimes I walked under the Verrazano Bridge looking for love.  I never found love by the Straight and Narrows.
Sunday was 10am mass at the neighborhood parish church, St. Patrick's.  We all ate a full Sunday dinner at 2pm that grandma had been preparing since the day before. At 3pm with my little suitcase filled with clean clothes and sheets, I   made a dash on the R Train to St. Patrick's Cathedral to sing Vespers with the rest of my classmates. That night I usually went to the movies in Times Square with Bob. Sometimes it was a road show presentation with assigned seats and intermission – "The Sand Pebbles" or "Hawaii."
I was intensely lonely that fall on the weekends. I was so happy when one my classmates, Paul asked me to come with him to visit his folks in Brewster New York one weekend. His parents were very Waspy so I felt I was visiting the set of "The Donna Reed Show." I did my own laundry for the first time in their basement as Paul and I fooled around a little.  We did manage to catch the movie "Valley of the Dolls" that weekend. Wow did that movie affect me.
"When did I get, where did I
Why am I lost as a lamb
When will I know, where will I How will I learn who I am"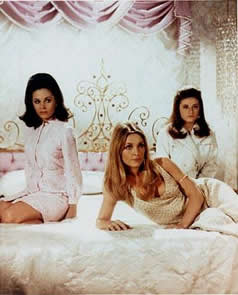 My love of theatre crossed over to the other side of the boards. I was assistant director on our school production of "Inherit the Wind" and "Murder in the Cathedral." Every Christmas tide, the graduating class hosted Gaudeamus. This was a musical celebration held on the last day before we all went home for the holiday. I wrote and directed our musical satire based on "Damn Yankees" and "A Funny Thing Happened on the Way to the Forum." In my version of the musical mélange, we made fun of our Greek professor Father Wilders who is tempted by the devil and goes back to classical times to coach the Olympics! The highlight was a filmed sequence within the play which I edited ala Richard Lester. The cast got dressed in togas which I borrowed from my Sacred Heart Parish Passion Play costume collection and did a madcap version of the Olympic Games farcically reenacted in Riverside Park.
After Christmas break, I began going back home to Newburgh for weekends. I would grab my weekend suitcase, rush out of choir practice class at 2pm, catch the Broadway IRT Downtown local, ran like a banshee through the underground connecting tunnel to Port Authority to catch the 2:45pm ShortLine bus.
My parents picked me up at 4:45pm and dropped me off at my weekend job at the A&P. I worked in the Produce and Deli Dept. till 9pm and worked all day Saturday till 7pm. I was lucky to have this standing weekend arrangement with the A&P Manager, Mr. Smith who had take a shining to me. I was a very good employee. Of course, this was money to pay for the bus fare and all of my theatre going.
After work and a quick bite to eat at home, it was usually a movie with my Mom at the local Squire Cinema on Saturday night. I was slowly turning into a surrogate husband and I could feel the jealousy of my mother growing as I escaped every Sunday back to the city. That winter was when I first saw the film, "Who's Afraid of Virginia Woolf?" I had heard or seen nothing like it before on the screen but the tensions, language and the dynamics eerily reminded me of my parent's many furious arguments.
Martha: What a dump. Hey, w-what's that from? "What a dump!"
George: How would I know?
Martha: Oh, come on, what's it from? You know!
George: Martha…
Martha: What's it from, for chrissake?!
George: What's what from?
Martha: I just told you. I just did it. "What a dump!" Huh? What's that from?
George: I havent't the faintest idea.
Martha: Dumbbell.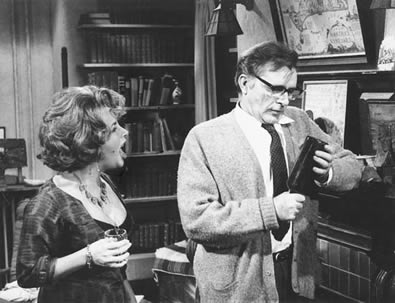 So was the beginning and the end of my first two years of college. Bob would leave the studies for the priesthood after we graduated and go on to Marymount College up in Riverdale to become an engineer. He married a lovely nurse, moved to North Carolina and they had three handsome boys.
In 1969 Charles and I continued on to St. Joseph's Seminary and continued on….like the symbiotic relationship between Joe Buck and Ratso Rizzo in "Midnight Cowboy." Continued on, little white, valise in hand… continued walkin' on…
"Everybody's talking at me. (click)
I don't hear a word they're saying,
Only the echoes of my mind.
People stopping staring,
I can't see their faces,
Only the shadows of their eyes.
I'm going where the sun keeps shining
Thru' the pouring rain,
Going where the weather suits my clothes,
Backing off of the North East wind,
Sailing on summer breeze
And skipping over the ocean like a stone."
(To  be continued)