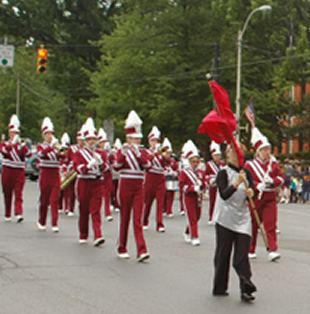 Most towns in rural America depend upon their local volunteers to put out fires, in contrast to the urban, paid professional fire departments. The volunteers are a very proud group of guys who respond instantly when the siren wails out across their towns alerting them to drive to the company firehouse and jump on the red pump truck to the scene of the fire. These volunteer companies would sometimes celebrate the anniversaries of their founding with parades and picnics. Every summer, fellow volunteer fire companies would come from all over the state to march in the town parade followed by a beer fest. Dressed in their finest uniforms with white cap and gloves, they sometimes hired a band to walk in front of them in order to win the prize for best participation.
**********
My good high school friend Alan Tomer held the Second Trumpet Chair in the NFA High School Orchestra. He never could knock out my other good friend and neighbor, Peter Peluso from the coveted first chair. Alan though was first trumpet in the Newburgh Combination Drum and Bugle Corps.
One day in the summer of 1965 over at Alan's s house, while listening to the LP of Alex North's score of the movie Spartacus, he got an emergency phone call from his band teacher, Mr. Louis Aulogia.  The Drum and Bugle Corps had suddenly lost their bass drum player to an ankle accident and there was a firemen's parade the next day.
The Main Title of "Spartacus" blared out over the hi-fi as I was rapping out the percussion strokes on the coffee table when Alan turned to me unexpectedly and said: "Anthony you can do it. There's nothing to it – you just bang out the beat like you are doing now. It will be great fun, and you get paid!" Of course my usual immediate response was NO. Alan kept pressing. I had just seen The Music Man and when he mentioned that I got to wear a uniform I could see myself magically transformed like at the end of the movie, marching down Main Street USA. I kept thump-thump-thumping till Spartacus finally expired on the cross and the Exit Music played and the tone arm lifted up into silence. I gave a final rap on the table and I gave in. We turned off the RCA console and for the rest of the afternoon I was in Alan's hands as he taught me the basics of banging the drum (slowly).
The Newburgh Combination Drum and Bugle Corp was a small, historic 10 -15 piece band (the instrumentation depended on who showed up). I would get $5 to march in the Goshen Firemen's Parade at the other end of Orange County. Our local Vails Gate Fire Department had hired the band to play for them in the parade. The next morning I went over to meet our bandleader Mr. Aulogia who was very grateful to me stepping in. He gave me a uniform and some rudimentary instruction.
And so started my marching days…
I loved my red (almost salmon) and powder blue uniform, gold epaulets and cap with patent leather visor. It was made of heavy wool so on hot days when I sweat or got caught in the rain, I smelled like a wet dog. It was a classic band uniform, a bit ill fitting on the large size. I looked like Nathan Lane playing Matthew Broderick playing Harold Hill. To complete the look, I got a brand new pair of white, cotton parade gloves, the kind with a little button snap across the palm. I loved the way the soft cotton gloves snugly felt with the three little ribs on the back outlining the span of my hand. The sound of the snap was mysteriously sensual to me – that pop when it closed encasing my hand in white innocence –SNAP!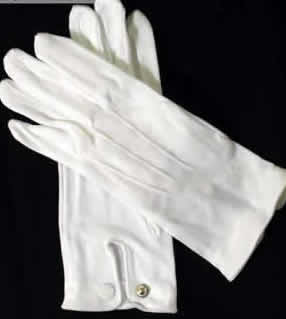 We rode to Goshen NY in a yellow school bus. The firemen sat in the back while we sat in the front with instruments piled all around, under and over us. The parade would usually begin outside of a township and we would march in front of our firemen, who were smartly erect, carrying their company colors.  We would walk many miles up hills, around fields with nobody to play for but ourselves or the occasional barking dog, annoying kid on a bike or housewife poking her head out of the front screen door. I wasn't allowed to ever stop playing the big bass drum strapped onto my shoulders even if no one was around.  I had to keep the beat, to keep us in step. Even when we stopped, I kept it going so we all could start on the right foot so to speak, right first, then left, right, left, right left….I always had an innate sensitivity to music so keeping the beat came easy to me.
It was always exciting when we finally entered the town strutting down its Main Street. The crowds now lined the sidewalks, clapping and shouting out encouragement. We picked up our pace a bit and the fireman stood at attention as we passed the host fire department house. Our march would end up at a park or behind a VFW Hall for beer guzzling barbecue. This was the time for the fireman to party. Being a minor, this was the least favorite part since we had to hang out and watch the guys get drunk. We would sit a picnic tables while the wives of the host company doted on them, serving barbecue chicken, potato salad, corn, watermelon and homemade pies. The guys would tell ribald jokes, smoke many packs of cigarettes and tap the bottomless kegs.
This was when I noticed Joe McDermott who was one of the butchers at the Squire Village A&P where I also worked in the produce department. I guess he had been in the back of the bus on our long hot ride over. He shyly came over and sat next to me offering a sip of his warm beer. He was a sweet gentle 40 year old man who lived in Campbell Hall with his ailing mother. We laughed over the fact that here we were in Goshen far from where we worked but had never really met. We spent the rest of day together filling the longueurs with shared sips of beer. He sat next to me on the bus going home. It made plenty of pit stops for bathroom breaks and for the emergency sudden up chucks on the side of the road.
I marched all the rest of the summer and rehearsed all winter. I learned all the great marches of Sousa, Goldman, Bigelow and Fillmore. It wasn't too difficult to follow the notes on the scores during our midweek practice in a small place over Woolworths. Music has always been my escape and refuge so playing in the band was pure heaven for me. Standing in back, making eye contact with the conductor, watching his downbeat, I set the rhythm and pace of the march.
"And you'll see the glitter of crashing cymbals
and you'll hear the thunder of rolling drums
and the shimmer of trumpets.
Ta-ta-ta!
And you'll feel something akin to the electric thrill
I once enjoyed when Gilmore, Pat Conway,
The Great Creatore, W.C. Handy and John Philip Sousa
all came to town on the very same historic day"
Joe and I became fast friends and we would try to time our lunches together. We ate at 11am so we could sit alone in the tiny lunchroom with a single small window overlooking the side parking lot of the supermarket. He always brought lunch that his mother made for him, neatly packaged in a brown paper bag, sandwich in waxed paper, thermos of hot Irish tea and a piece of fruit. I grabbed a grilled cheese and fries from the Squire Village Luncheonette next door to the A&P. We talked about movies, records I had bought, books we were reading and dolce far niente. In our small lunch room sometimes though we so quiet I felt like the blind man and Frankenstein – "Friend." Once in a while our knees would touch under the small oak Alpine table. I wondered how innocent the awkward brushing up was. I was not sure and sometimes I would place my knees precariously close hoping to be touched.
Mr. Aulogia was a great band teacher and I learned to read music more and more. I tried playing the snares but didn't have the time to devote to it, so I branched out into playing the cymbals and the triangle. I learned that the triangle is the loudest sound in the orchestra. I was fascinated by the musical arraignment of the instruments which grew into my studying the great Broadway arrangements of Robert Russell Bennett, Sid Ramin, Luther Henderson, and Hans Spialek. Once in a while we would give a performance in the park and play more formal concert pieces arranged especially for band like ones by Percy Grainger or Frederick Fennell.
One night in midwinter, Joseph, as I now called him, asked me over for dinner to his house in Campbell Hall to meet his mother, have dinner and to stay overnight. It made sense since his place was not close by and I didn't have a car to go home late at night. We could go to work together in the morning.  My mother suspiciously gave me her OK to go.
I went to the Squire Village Drugstore and bought a Whitman Sampler to give to Joseph's mother, Mary. She was a frail 80 year old Irish lady who accepted my candy and excused herself to go to bed early taking the candy to her downstairs room. It was 7pm. He had brought a steak from the store which he had carefully chosen and cut. Joseph broiled the steak and warmed up small white potatoes with parsley and strings beans which were cooked to a gray color of death that his mother had prepared during the day.
Joseph lit some candles and played Jackie Gleason's album, For Lovers Only. The steak was expertly prepared and finished off with a drizzle of lemon and olive oil. I noticed that it began snowing when "But Not for Me" started to play. I was waiting for something to happen as I watched my Anne Page vanilla ice cream melt as I began to swirl it around with my spoon, making lovely pink streaks with the Jane Parker strawberry sauce. We cleaned up listening to "Lester Lanin at the Tiffany Ball." He washed the dishes while I dried. I felt like Cinderella in the kitchen with a reluctant White Knight. It was time for bed.He showed me to a quaint little room off the hallway upstairs near to his bedroom. There were flowers on the night stand which I guess he had set out that morning. He pulled down the covers for me, walked to the door, stood in the doorway for an uneasy moment, wished me good night and left.
All night I waited for him to come to my room. I could hear his mother snoring lightly downstairs and I jumped a couple of times when I heard a noise near my door but it was only Tabby the cat. Outside the wind blustered and howled as I read a copy of Peyton Place that I had stolen out of my mother's closet. I pulled the quilt around me and finally fell asleep as dawn just about broke. I woke up to the smell of Eight O'Clock coffee and homemade pancakes that Joseph had prepared from scratch. Mrs. McDermott sipped her Irish Tea from a saucer, blowing across it to cool it down. I thought I felt Joseph's leg graze me under the table but I realized it was only Tabby doing her morning stretch. We drove to work but didn't have lunch together that day.
In the spring, rehearsals continued and our platonic A&P tete a tetes continued. Nothing happened, even sitting alone in the brand new Squire Village Cinema watching "Those Magnificent Men in Their Flying Machines" It was time to take things into my own hands as I realized that I was Harold Hill and he was Marion the Librarian and not the other way around.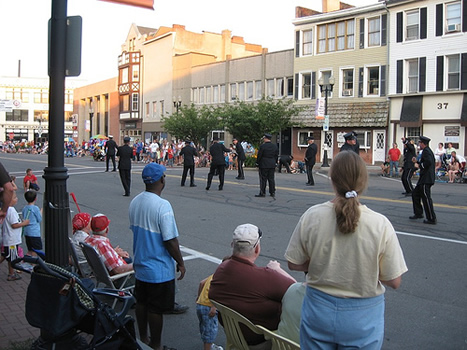 The firemen of Vails Gate hired us again to march in Suffern NY on Labor Day. It was a great parade held in the late afternoon with fireworks to follow that night. Sitting in the field behind the Suffern Rec Center, Joseph once again slipped me some beer. It was a hot day and long parade and I drank a little more than I was used to. We lay on the grass looking up at the sky-rockets and as I was quite lit, I reached over and took his hand into mine.
When we left later that night, I boldly followed Joseph to the back of the darkened bus and stepped over him and took the seat next to him by the window. I stared outside the window watching the houses go by like Maria on the bus from the convent to the house of the Baron von Trapp – "I Have Confidence in Me." The drinking continued as the firemen were stumbling around down front singing "The Ballad of the Green Berets" that somehow segued into "Strangers in the Night" complete with slurred "Do doby doby do"s.
I noticed that this time his knee was definitely touching mine. I was feeling very sexy but nervous. I fidgeted with my white gloves, putting them on and taking them off.  SNAP SNAP SNAP. Emboldened by the lager, I reached over to his dark blue slacks and lay my hand on the definite rise that I had kept looking at out of the corner of my eye. SNAP Somehow I unzipped him. SNAP I could feel his hardness as we both looked straight ahead as the fireworks of the town we were passing through lit up the sky casting red, green and golden glows over us. SNAP I remembered the steady beat of the march as I held tight. SNAP I didn't realize I still had my white parade glove on when I suddenly I felt some rockets going on down below. SNAP Startled at this quick sudden explosion, and not knowing what to do, I awkwardly took my soiled white glove off and tossed it out the window of the bus somewhere onto the passing highway. SNAP Joseph quickly zipped up, jumped up and joined his confreres. I sat there with one glove on. We arrived back in Newburgh and spoke not a word as he drove me home to New Windsor. SNAP
Music has always been part of my life. Its transporting power lifted me up and out of "my own little corner" of Newburgh to Siam, River City, Iowa or Bali Hai. I buried myself in my record collection till I could find my own Emile de Becque, Billy Bigelow or Harold Hill. It took me awhile though to realize I had the casting all wrong. In a way, I was The Music Man and I didn't have to march to the beat of a different drummer I was the drummer. I set the pace and led the band and was marching center. Sometimes I got off on the wrong foot but I was not going to let the parade pass me by. One day I would spot that special someone, I would reach out into the crowd and grab Marion Paroo and together we strut down Main Street or Broadway.
September came and it was back to school for my senior year. I worked only on the weekends now so I never saw Joseph again who worked Monday through Friday. Pete Peluso had graduated that past June so my friend Alan got to be first trumpet. Our band rehearsals continued in winter through the spring. When I reached into my uniform jacket the following summer only hours before our first parade of the season, I discovered I had only one glove. I made a mad dash in my full uniform down to the Army & Navy Store on Broadway to buy a new pair of white gloves. Breathlessly back in time, I didn't miss a beat – SNAP!