Boys of Summer
1963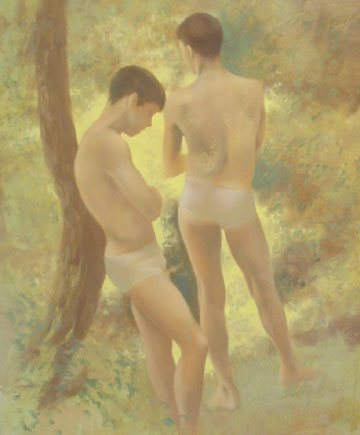 1963 was the last idyllic summer of my youth before I turned 16 and got my working papers. Do you still get working papers today? I had to go to a doctor and "cough" to get approval.
I got up at 8am after my parents left for the factory. I had my chores to do: clean the house which meant dusting the furniture, vacuuming every day and scrubbing the toilet with Tidy-Bowl. One day I combined Tidy-Bowl with bleach and was almost asphyxiated by the vapors!
At noon I made lunch for my brother and sister. I had to watch the Match Game and I Love Lucy till 1pm. If I didn't have to mow the lawn, I would get out our patio lounge chair with multi-color plastic webbing and laze in the shade of our back yard with my heavy plastic transistor radio close by (the kind that the batteries always leakded through with acrid grey yuck). As I drifted in and out of napping while reading James A. Michener's, exotic novel Caravans, I dreamt of the two Arab boys from the novel, dressed in white briefs dancing languidly in the woods next to me
At 4pm it was time for the Broadway Hour on our local AM radio. They played an entire cast album within the hour and this is how I got to be a Show Tune queen. That summer they started a contest where they played a song and you called in if you knew which musical it came from. Well I was the big winner. I would sit by the phone have six digits dialed on our rotary phone and as soon as I heard the first note of the song I dialed that last digit and got through.
"Is it "Young and Foolish" from the 1955 musical Plain and Fancy starring Barbara Cooke?"  I won a case of Fresca, fried clam lunch at the Dairy Barn, a hot-wax car wash, and two tickets to a local summer stock production of Barefoot in the Park at the Cecilwood Theatre.  I was winning so much that the finally had to make a rule you could only win once a month. But that did not stop me. I had my brother and sister call in for me!
At 5pm the lazy hazy afternoon ended as I set the table and waited for Mom to prepare dinner. Of course I washed the dishes afterwards and brought out the garbage.