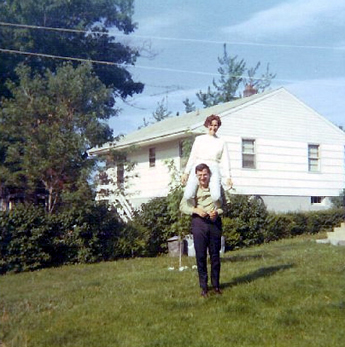 I was fortunate to grow up in the 1950's, the last great flowering of the American Songbook. My musical tastes were formed by viewing the many television variety shows like Lawrence Welk and the Bell Telephone Hour as well to listening to Broadway show albums. My Uncle Joey on the Polish side of the family exposed me to the glory of Gershwin and Kern, the lush melodies of operetta and the songs of movie musicals. Curiously I discovered classical music all on my own. I have a great knowledge of classical music that I learned from reading the liner notes of records, over and over. It was my Uncle Joe who bought the first Hi-Fi that I would sit and listen in front of, transfixed like Nipper, the RCA dog.
Here are few some songs that changed my life growing up through adolescence before the Beatles and rock and roll took over the airwaves:

"Only Make Believe" (from Show Boat)  -My mother would sing this song a lot. Did she think her love was only that? Indeed Show Boat has become a great influence on me as I identified with Julie LaVerne, the tragic chanteuse. I think my Uncle Joe and my mother saw the 1949 revival on Broadway so it was played a lot. "Old Man River" too of course.
"If I Loved You" (from Carousel)  – Another favorite of my mom, always tentative love. I still sob at the ending when Billy Bigelow says, "I loved you Julie, know that I loved you."
"Rhapsody in Blue" – One of the first LP's I bought at Merkels, a butcher that for some reason had a weekly record promotion.
"On the Street Where You Live" (from My Fair Lady) – Another LP but a lesson learned. I bought this at Woolworths for 99 cents. It was not the original cast recording as I soon discovered when I brought it home and played it.
"The Beer Barrel Polka" and the "Too  Fat Polka" – music to eat golumpki and kielbasie by.
"Volare" – My Italian uncle taught me this song on his guitar and I would sing it at family gatherings. OH OH!
"Shine on Harvest Moon" – This is the song that I sang in the fifth grade at my parochial school talent show. From then on, I was nicknamed "Shine On" by the lady who would sell meatball heroes for 25 cents at the deli next door.
"The Merry Widow Waltz"  (from Lehar's operetta) – I hummed this often and danced around the living room.
"The Drinking Song" and the "Serenade" (from the Student Prince) – Mario Lanza's voice in the movie sent chills down my spine.
"Cry" sung by Johnnie Ray – "If your sweetheart sends a letter of goodbye.  It's no secret you'll feel better if you cry …" a closeted homosexual paean sung by one to one.
"Come on-a My House" sung by Rosemary Clooney. The theme of inviting someone in with fruits and nice things to eat, but with the hidden offering of sexual favors.
"Some Enchanted Evening" (from South Pacific) – My favorite song of all. I would hum  this to myself as I stood alone in Julius' looking for that stranger. I finally met him and his name is Gary.