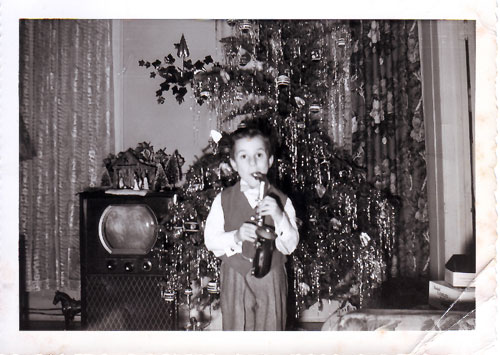 New Years Eve in the 1950's was a family affair. No one went out to a fancy restaurant or got loaded at a bar.  Being Italian, it was mandatory that we spent it at Nonna's house at 2350 Beaumont Avenue in the Belmont section of the Bronx.
Festivities started around 8pm with everyone gathering in my grandma's house. When I mean everyone I mean 25 family members.   There were no friends over since everyone was considered family even it you were not! So friends were called cugino or cousin.  My cousin Viola to this day calls me "Cuz".
The adults sat on the chairs and sofa while the kids sat on floor as we played Tombola.  Tombola is the Italian version of Bingo with 90 numbers. My grandmother was the caller and collected all the bets.  We played for coins and yet we all played like high rollers. Nonna called out the numbers in Italian and she was strict about the rules!  My dad called her Mrs. Mussolini. Each number though had a phrase that went with it and my Nonna shouted these out with glee. The women would sometimes laugh at some of the numerals. There were many in-jokes most of them dirty which as a kid I never got. Years later I figured out one of them was sessanove which is the number 69 and the phrase was Sotto sopra or upside down – Ahem.
Meanwhile my Aunt Mary was in the kitchen preparing pizza. She had made and kneaded the dough during the day. As we played Tombola, that sexy, great sour smell of yeast, throughout the tenement.  My aunt being Sicilian of course made pizza in that style with a one-inch thick sponge-like delicious crust topped with a judicious helping of tomato sauce, mozzarella and basil leaves (unlike today's customs of smothering the crust with globs of crap). Of course I burnt my mouth on it since I was greedy to taste and couldn't wait for it to cool off. "Pizza Mouth" my cousin Viola shouted at me as I downed some 7-UP..
Around 11pm I gave an unwanted performance on the saxophone that  my Uncle Nicola gave me for Christmas. Everybody cheered and applauded – that's what family is for. As midnight neared the excitement built as we gathered around the Philco television to watch the ball drop at Times Square and hear Guy Lombardo play "Auld Lang Syne" – live from the ballroom of the Waldorf=Astoria Hotel.
The countdown started in English and in Italian: 10-9-8-7-6-5-4-3-2-1!
We all hugged and kissed and we opened all the windows to let the fresh breezes of the New Year in. We ran around banging on kitchen pots with wooden spoons to chase out the evil spirits. All of us danced out into the hallways still banging and clamoring on our pots as we climbed the tenement stairs up to the roof. We tossed over some old trinkets and clothes to symbolize out with the old and in with the new. My father tossed over some firecrackers too.  It was "heads up" on street level below!
By 1 a.m. everybody was home. I was staying over. I snuggled up on my grandmothers "Hollywood" convertible sofa.  I bit of basil was stuck in my tooth. Yum it tasted good as it dislodged as my tongue played with the hardness on the roof of my mouth – "Pizza Mouth"!
The next day after Mass everyone would be back for a big afternoon dinner. Coats were piled high on Nonna's bed and the fire escape was filled with white boxes tied with string containing pastries and cannoli. I gave an encore performance on my sax.
HAPPY NEW YEAR!   –  BUON ANNO!