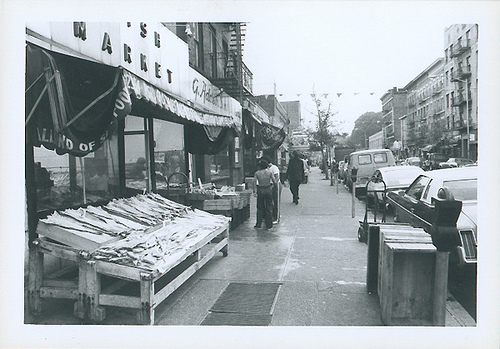 In the 1950's, when you walked into any tenement building in the Bronx, you were greeted by the rich aromas wafting from landing to landing of each family's Sunday afternoon feast:  the fiery tomato sauces of the Sicilians; the beefy, peppery briskets of the Jews; the sweet potato pecan pies of the "Negroes"; the pungent cabbages of the Irish; the pulled; savory pork of the Puerto Ricans; and the garlicky kielbasas of the Poles. From the laundry rooms, filled with huge apothecary like bottles of bleach and bluing, pungent smells floated up of clean sheets that mixed in with sour/sweet rot of garbage left over night in the basement before the morning collection.
Each morning I woke up in our Belmont neighborhood to an aromatic miasma of hot yeasty breads just baked in coal ovens at Madonnia; of glistening salty sea-air fish being laid out on chipped ice at Randazzo's; of ripe cheeses, salami and baccala at Teitel Brothers and luscious slightly over ripe peppers and melons at the stalls at the Arthur Avenue Retail Market.
As the 6am Angelus bells rang out in counter point to the sound of trash cans thrown down by burly garbage men, my Nonna brewed hot espresso and munched on biscotti encrusted with almonds.  She would dunk the hard, hard biscuits in the thick dark sweet froth and chomp and chew like a dinosaur.  Sometimes she made American coffee in a coffee pot where the brown brew bubbled up and percolated up into a small glass knob signaling it was done. Instead of gnawing on the indurate biscuits, Nonna sometimes whisked a raw egg into her cup of "café Americano".  She always offered me some and laughed loudly when I made a pussy face and refused. Afterwards she would take a basil leaf out of the icebox and rub her gums and teeth with it; a sort of Italian mouthwash or "Pepsodent"!
It was a hot, hazy, NYC humid summer Sunday and we were all going to Orchard Beach in the Bronx. Orchard Beach was a mirage, an oasis, a miracle. Robert Moses struck his staff into the land along the Long Island Sound and the waters parted to reveal a beautiful white sandy beach with Art Deco pavilions, promenades, and wooded cooking areas. The master builder, Moses has delivered us from the heat and given us all a municipal city beach to rival any in the Hamptons or Jersey Shore, – "the Bronx Rivera."
On Sundays in the 1950's, all the stores were closed except for the drugstores and bakeries which usually closed right after the noon mass. As my mother and I left the Church of Our Lady of Mt. Carmel, I dunked my hand in the holy water font and secretly sprinkled an Old Italian lady kneeling and praying the rosary. My mother, catching me, tugged my ear and pulled me along. Our first stop was the candy store to get the Daily News with its rotogravure in color. We then went to Addeo's for lard bread before we waited on the long line at Artuso's Pastry Shoppe to pick up the cannoli.
At 11am, we packed into my father's car: Mom, Nonna, Aunt Mary & Uncle Nick, and my cousin Viola, their daughter. It was already 90 degrees, the air thick and sticky. Still the ladies wore sun dresses below the knees and I never saw my Uncle Nick without a white shirt & tie. My grandmother always wore black since the day she was a widowed in her twenties. I jauntily had doffed a white sailor hat with battleship gray swim trunks and white "guinea" tee. On my pretty feet were brown sandals over white socks. I loved their smell of musty, tannic leather.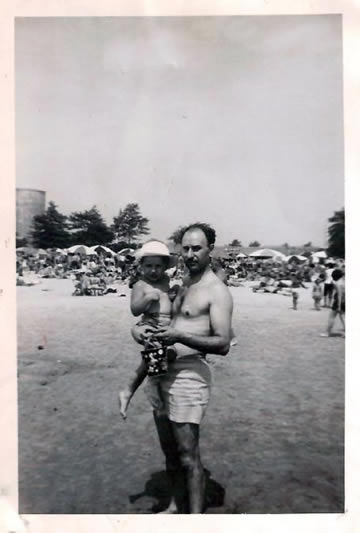 Dad and me at Orchard Beach
This was no ordinary trip:  it was an excursion, a safari. Napoleon in all his glory did not travel with so much of an entourage and supporting camp. My Aunt was chargé d'affaires undiplomatically ordering us to carry the supplies down two flights to the curb: picnic hampers containing real dishes; utensils and all the makings of a full dinner; boxes filled with pots and pans; linens, lids, graters, cutlery, colander, and wooden spoons; blankets, umbrella and an ice cooler layered with bottles of red wine and 7-Up.
My Dad pulled up the car to the front of our place at 2350 Beaumont Avenue, singing along to Rosemary Clooney's "Botcha- Me!" on the radio. My grandmother rode up front like Lewis and Clarkes' guide, Sacajawea, eyes straight ahead. I sat in the middle so I could play with the radio, dialing back and forth, forth and back till I got a swift slap on the wrist from Nonna. Aunt Mary (or Titsie as I called her), sat in the back and I could see her jungle red lips in the rear view mirror, glowing like the devil from the "Hell Hole" ride at Coney Island. Somehow Uncle Nick sat back there unflummoxed and never sweating next to Mom and Viola.
Passing between the Bronx Zoo and Botanical Garden on Fordham Road, we joined the exodus of other Sunday drivers to Pelham Parkway, leading directly east to Orchard Beach. Dad maneuvered us into the gigantic parking lot holding thousands of cars built for the wave of post WWII new car owners.  He was a New York expert and knew all the ins and outs of the city. He had figured out exactly where to park the car so it would be in the shade at the end of the day and not hot as all hell in those days before air conditioning.
Dad, our Virgil, guided us to the groves all the way up to the left. It was emptier there almost like Parnassus, secret and cool under the leaves of the umbrella-like trees. We reached a picnic table with a stone grill in the shade under the dabbled light of the afternoon sun. Mom was out of breath and Nonna enthroned herself on one of the wooden green, canvas chairs I had to carry. We unpacked the entire larder under the direct supervision of Titsie. My Uncle Nick quickly found a bottle of wine to slake his thirst. My Dad, now like Prometheus, made a fire out of some mysterious materials of I don't know what.  My Aunt set the dented, aluminum pots on the grate and started to re-heat the sauce she had made on Saturday morning, simmering with contents of meatballs, sausages, pork chops and bracciole.
Getting antsy, I started to pester my cousin Viola to take me to the beach to wade in the salty waters. Never in all of our excursions did my grandmother, Aunt & Uncle ever venture near the sand or go into the water. Finally Viola gave in and took me down the hill to the crescent of sand that had been conjured up by Mr. Moses.  At the end of the path, I took off my sandals and put on little white rubber bathing booties. The last time at the beach I started to scream at the top of my lungs when my bare feet hit the hot sand. I hated the scorching heat on the flat of my feet and the textured grittiness of the sand between my toes. My father had to carry me from the boardwalk all the way down to the beach where the sand was moist with the lapping, cool waves of the Sound. This time I was ready as I strode down the Sahara in my rubber shoes that Mom had bought me at Alexander's on the Grand Concourse. Like young Prince Moses I arrogantly kicked sand on people's blankets, carrying my tin pail and shovel like scepter and orb.
Viola was like an older sister to me. She often told me the story how she held me up (like the cub in The Lion King) a few days after I was born to admire her new "Cuz" and how I peed in her face! We were close ever since. Viola (in her bathing cap) and I frolicked in the water. I splashed her when she wasn't looking and she screamed how cold it was as I gleefully laughed in delight.  I made a few sand castles surrounded by moats. I loved to fill them with the water scooped up from my pail and watch the water swoosh around the towers. When I started to nudge her to buy me an ice cream from one of the vendors walking the beach, she announced it was time to go back. "I have had enough of you!" She dragged me like a puppy straining on a leash, not wanting to return home after its walk.  My sandals were so hot from lying out in the sun. I dunked them in my pail of water to cool them down before our trek back up the hill.
Like an Impressionistic picnic painted by Manet, our sylvan area had been transformed: our table being set out with crisp white linens with china, silverware and glasses. The white smoke from the grill circled around the area as the sunlight magically streaked though, keeping the gnats and flies at bay. In the distance a man (or was it Pan), was playing the mandolin and softly singing "Santa Lucia" which blended with a nearby family's laughing like satyrs at a dirty joke told by someone' s uncle. We joined them in contagious mirth. The pot was boiling as my Aunt threw in two boxes of Ronzoni macaroni. We never called it pasta. It was either spaghetti or macaroni, no matter the size. I helped stir them round and round the steaming, bubbling cauldron under Titsie's watchful eye. I foolishly burnt my tongue trying to taste a shell to see if it was done. "Strunzo" my aunt said curtly with no pity.
She doled out the steaming "macarone", the amounts based on ones status and sex, Nonna and my Dad getting the biggest heaping plates. She ladled the wine dark tomato sauce over them and with a flick of the fork, sprinkled cheese lightly all over the mouth-watering mound surrounded by the savory meats falling apart in their tenderness.  We never called it parmesan; it was cheese. It had been my mother's chore before lunch to grate the wedge of cheese since she was Polish and "couldn't cook" or so covertly said my Aunt in Italian behind her back but I understood. I noticed one of Mommy's knuckles was scraped from trying to get the last bits grated. My Aunt would not tolerate any waste.  Uncle Nick mixed the red wine with 7-Up in small clear glasses as I passed them all around. My Mom didn't want wine and drank only the lemon soda. She wasn't feeling so well that summer.
After dinner, the heat of the day brought out the loud humming chorus of the cicadas. After we cleared up and scraped off the plates and flatware, we all found spots to lay back and laze. I fell asleep on a wool red & bIack plaid blanket. On my back, squinting up, I spotted a seagull circling above searching for the scraps it knew we would leave behind.  Dad and Uncle Nick, smoked panatelas and got out the cards to play briscola and drank lots of wine sans 7"Up.
Mom and Me
 After a couple of lost hours, Titsie heated a pot of espresso and set out the demitasse cups with tiny doll house like silver spoons to match. The herbaceous smell of licorice filled the air as the Anisette was used as the sweetener in our café. The clear syrupy liqueur drew gnats and flies bombarding us like kamikaze pilots. A huge bowl of mixed nuts of pecans, walnuts and "nigger toes" (Brazil nuts) was placed on the tablecloth now spotted with red wine stains like a Rorschach test. I loved the freedom of being able to toss the shells into the woods until Uncle Nick told me to stop. My Aunt, like Ariadne, cut off the pink & white twine and opened the virginal white boxed filled with cannoli. My chest was covered in white confectionary sugar as I picked out the candied fruit (or spit them out if I had missed any). Nonna slapped my hand again.
At the end of the day, a golden haze started to stream in from the west as we packed up everything carefully. We rinsed everything off at a spigot at the WPA Building restrooms. Even though the car was in the shade it was damn hot. We opened all the doors and waited for it to cool down. Uncle Nick lit up on one last Camel. Some boys set off Roman Candles on the beach and we all clapped as the Technicolor streaks were reflected on the rooftop of our dark shiny car. I skidded across the front seat and cried out as my bare sunburned thighs hit the blistering vinyl. Dad turned on the radio and of course, I started to race through the dials. He made me stop when the Four Aces were singing:
"'Heart Of My Heart', I love that melody
'Heart Of My Heart' brings back a memory
When we were kids on the corner of the street
We were rough 'n ready guys
But oh, how we could harmonize"
Dad started to sing and we all sang along except for Nonna who was looking out for Indians.
"'Heart Of My Heart' meant friends were dearer then
Too bad we had to part
I know a tear would glisten
If once more I could listen
To that gang that sang 'Heart Of My Heart'"
We inched along through shaded arcade of Pelham Parkway. When we arrived home, Dad gave Viola and me a nickel each and we ran back to Artuso's for Italian ices.  We never called them "Italian" ices, there were ices! What else? There were lots flavors but I was a purist – Lemon Ice was king.  The ice was so cold a pang of pain shot up my nose and like an aardvark I licked the last tart lemony drops from the bottom of the small white paper cup. With sticky hands we returned home.
Mom put me in the bath tub to rinse off the detritus of a day in the sun, sand and salt water. I left behind a gray dull ring of baby oil in the tub as the final particles of sand washed down the drain.  After she toweled me down, Mom lay down on Nonna's full sized bed with white heavy cotton sheets she had to be ironed after washing. I was so sleepy; I made no usual scene when I was asked to go to bed. I slept in a Hollywood bed in the parlor. As I drifted off, the gray flickering light of the DuMont television was my night light and the Burns & Allen Show theme song, "Just a Love Nest" was my lullaby that was given over to some boys in the enclosed courtyard crooning Doo-Wop like love sick alley cats.
That night, I dreamed of seagulls, castles, and forests with witches chanting a wordless song.
This would be my last golden summer living in the Bronx.  We would move to Brooklyn and join Ralph and Alice leaving Marty and Molly behind. In a few years, Aunt Mary & Uncle Nick with Cousin Viola would move to Woodside, Queens not far from Archie and Edith. Nonna stayed behind like a bit of black anthracite coal firmly stuck in the good earth. In 1974 the Goldbergs moved to Co-Op City and my grandmother moved in with Aunt Mary. She gave me the entire the contents of her house for my first apartment. I guess with time and aging, the glowing diamond underneath she had always hid was finally released by the burning of the Bronx.
I would never be alone nor "Prince of the City" again.  My brother Michael would be born that fall in September. Ah the 7-Up without wine!  I would become the big brother having to set an example. "Don't you know any better, you're the oldest? You big ciuccio!"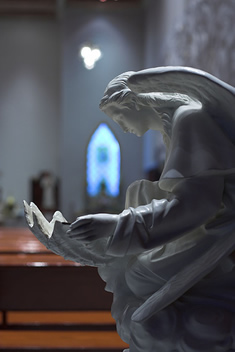 I return to the Bronx often. I stop at Beaumont Avenue hoping to see Uncle Nick sitting on the steps puffing away, cursing "somma-bitch" under his breath as Aunt Mary calls him inside to do some chore. I imagine I hear my grandmother in black yelling at the TV screen as some histrionic wrestler throws his opponent down Slam! on the mat. My cousin Viola takes my hand and we go roller skating at the Parish Hall. I hear my father pull up in his car to pick my mother up for a ride to City Island, singing along with Eddie Fisher, "Oh Mein Papa."
I enter the hushed church of Our Lady of Mt. Carmel and stick my hand into the Holy Water font held by a life size marble angel. The angel and cool baptismal water transport me to the beach, the water lapping up to my bare feet. Outside again, looking up, a pigeon nests next to be big church bell. It is 6pm, the final Angelus rings out and the startled bird flies high, circling the spire.
I smile to remember the seagull – now lifting me up up over the tree tops, looking down on Belmont, circling round and round, trying to go home again. I hover over the mean streets of Arthur Avenue, spotting some kids rapping on a corner of a street besides a heap of black plastic trash bags; swooping down for a Lemon Ice; pecking at a bite of prosciutto bread; snatching up some discarded candied fruit or nuts; sipping an espresso – all my Proustian Madeleine's – reminding me, trying to re- capture those idyllic days of family, smells, tastes and sounds; music and the laughter; of the warmth and love of time lost…of golden days…
"Golden days in the sunshine of our happy youth
Golden days full of gaiety and full of truth.
In our hearts, we remember them all else above,
Golden days full of youth and love.
How we laughed with the joy that only love can bring
Looking back through memory's eyes.
We will know life has nothing sweeter than its springtime,
Golden day, when we're young,
Golden days"
*************
Click here to hear
"Golden Days, sung by Mario Lanza in the 1954 movie, The Student Prince
that I saw with my Aunt Mary at the RKO Fordham..