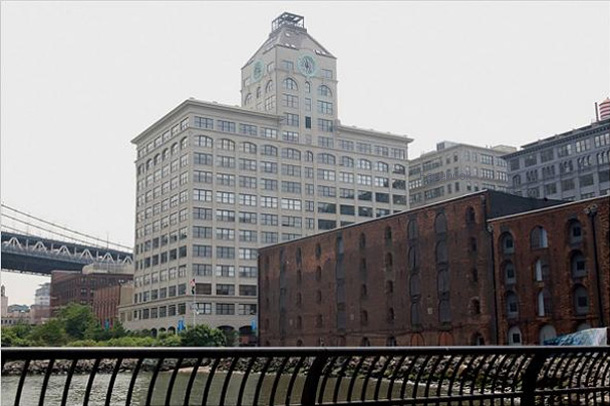 Walentas Clock Tower
Therefore the Lord God sent him forth from the Garden of Eden, to till the ground from whence he was taken. So he drove out the man; and he placed at the east of the Garden of Eden an angel with flaming sword …, to guard the way of the tree of life.  Genesis 3:23
********************
My father was the longtime foreman of Cel-U-Dex Corporation, an office products company founded in 1909 by C. R. Chamberlain, and located in the now historic Walentas Clock Tower Building in downtown Brooklyn.  The factory was an easy 15 minute drive from our home in Park Slope. The short car ride took my father along the bumpy cobble stoned streets of the waterfront, under the iron and granite shadows of the Manhattan and Brooklyn Bridges, following the trail of abandoned trolley car tracks to Front Street.
In 1957 Mr. Chamberlain announced that Cel-U-Dex would be moving to New Windsor, New York, a small town next to Newburgh, New York, about 70 miles upstate on the other side of the Hudson River.  Like other executives of that era, he had moved to the suburbs and was now taking his factory with him for an easy commute, and abandoning the inner cities' encroaching post war, urban blight.
My father had gotten worse since his car accident, and had been finally been diagnosed with Parkinson's disease – the "Shaking Palsy" as it was once called.  He had started to shake, his face was sometimes rigid and his slowness of movement made it difficult to walk, like a lumbering giant lurching from chair to chair to keep from falling. In the beginning these symptoms would come and go, making my mother believe it was all in Dad's head and he could control it if he really wanted to. There were many fierce arguments – highly verbal, ugly spats that were just a symptom of deeper marital trouble.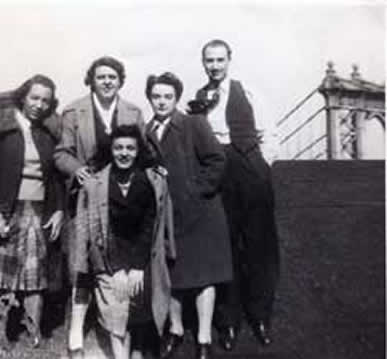 Dad with fellow co-workers on the roof of the Clock Tower Building
Alas, the Parkinson's and the factory's move to Newburgh posed a bigger challenge.  My father and a fellow entrepreneur were just on the verge of leaving the company and starting their own firm that would have manufactured plastic index tabs. When my Aunt Laura heard that he still wanted to do this, she laughed and told my mother what a fool my father was. "How's he gonna start a company now that he is sick. And if it fails, where does that leave you and the kids, Josie? Then who is gonna hire him, a cripple? Him and his big ideas, where are they now? You better tell him to stay where he is." So Dad gave up on his idea. He had a heart to heart talk with Mr. Chamberlain and told him about his Parkinson's that he had been trying to hide from him.  Mr. Chamberlain, appreciating my Dad's loyalty to the firm (of course not knowing he had planned to leave and compete with him), told him he always had a job there no matter what may happen, and advised that he move his family up to New Windsor.
For a year or so, before he could figure out how to buy a house, move and uproot his family from his beloved New York City, Dad commuted not on the tolled NY Thruway, but on a hazardous, slow, two- and- a-half hour commute. From the snow and ice of wintertime to the hot and humid pre-air conditioned summer, he traveled up the twists and turns of Route 9W, north through sleepy hamlets with their many stop lights, and up and over the serpentine road of the fog- shrouded Storm King Mountain. On the other side of this lowering massive rock lay the town of New Windsor, nestled in the humid, verdant expanse of the Hudson River Valley where Mr. Chamberlain had erected his new factory at 218 Mac Arthur Avenue, in an industrial tract in this very small rural community.
To save on gas money and knock off sixty minutes of travel time, Dad decided he would stay week nights in the Bronx with Nona and my aunt "Titzie". This meant I only saw him weekends. During the week, my mother made me call him every day at 6:30 pm. Since we didn't have a phone at home, I would walk down to the corner candy store, swing open the folding door of the wooden phone booth, and collapse the door along its noisy overhead track that always stuck till I jerked it closed. I put my nickel in the slot and waited for the ding-a-ling, dialing Cyprus-8-6482. My Aunt Mary always answered with a loud "OLLO!" as if I was calling from China.  "I lova you so much, holda the wire!"  My Dad would get on always sounding a bit tired, and I would recount my school day or excitedly tell him of the latest show album I had bought. I could hear my Aunt yelling from the kitchen, "Tonio, hurry up, Tonio everything is getting cold!"  He would reluctantly hang up. Joining Uncle Nick, Nona and my cousin Viola, he sat down to a delicious hot supper before going to bed at 8pm in order to wake up at 5am for the long commute back to New Windsor. But before I put the receiver down I used to sing as if to him, "Good night, my someone, good night, my love…" from The Music Man.  He never heard it.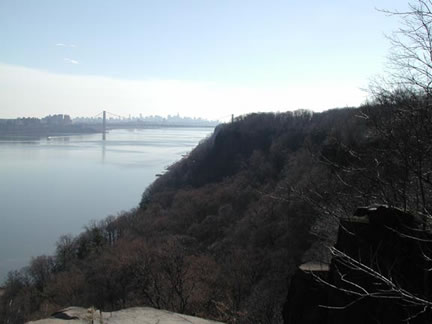 Looking back from the Palisades Parkway
The clink of the nickel dropping down into the metallic coin box woke my interrupted lonely serenade.  I always pushed the coin return button to see if my nickel would come back. Sometimes it did and I would buy a serendipitous Snicker Bar, gobbling it outside the candy store – "Standing on the corner, watching all the girls go by… ."  I hurried home to dinner, breathlessly bounding up the stoop, my tongue flicking around my teeth for any stray chocolate or errant peanut.  Since it was dusk, Mom used to time me for fear I would be kidnapped by the gypsies who used to live around the corner behind a curtain in the back of an empty store. The only gypsy I knew of was from the I Love Lucy classic operetta episode where Lucy was the snaggle- toothed "Queen of the Gypsies."
On Friday nights, my Dad came home around 6 pm; Mr. Chamberlain let him leave early and he was driving in reverse commute. My mom usually had prepared a fish dish for him since it was Friday. Before he had even picked up a fork and ate some of her delicious Shrimp Creole, she grabbed me and rushed out the door saying a quick goodbye.  She would join my Aunt Laura at the local "Chinks" on 9th Street before we went to the movies. My aunt always called it, "Ladies Night Out" since they had both worked so hard during the week and deserved an evening off. The restaurant was an old fashioned chop suey parlor with hanging red lanterns, glaring neon in the window, grinning dragons, sticky vinyl black booths and over large menus with selections from Columns A, B, C or D. They always chose from B, which let them include Lobster Cantonese, bright red carapaces with yellowy egg sauce, my mom's favorite.   Dessert was a choice of a scoop of ice cream or pineapple chunks and maraschino cherries with toothpicks stuck in them followed by a "complimentary" fortune cookie – "A journey of a thousand miles begins with a single step."
We would walk directly across busy 9th Street, mid-block, dodging traffic to our neighborhood movie theatre. The RKO Prospect was a grand movie palace not unlike the Loews Paradise up in the Bronx that my Dad would occasionally take me to. At the ticket kiosk that was rimmed in yellow light bulbs, my mom plopped down a dollar for me and her, and got back ten cents change. No one paid attention to start times then, so we just went in whenever we were done eating. We passed through the Grand Foyer avoiding the concession stand, never buying popcorn – "too expensive!" We were like three blind bats groping our way to our seats in the Stygian blackness, since the usherette with her flashlight was on cigarette break. Peyton Place was the main feature. In the darkness, I whispered to mother what happened to Selena in the barn, only to be shushed up by Aunt Laura who gave me a stern look and a poke that reminded me of Mrs. Danvers in Rebecca that I had just watched on Million Dollar Movie. We would leave only when my aunt blurted out, "This is where we came in."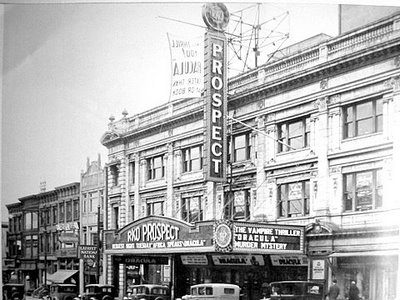 RKO Prospect on 9th Street, Brooklyn
After the show, Aunt Laura would head down back to her place on 10thh St. and 4th Ave. while we stopped by the drugstore on 9th St. and 7th Ave. for a pint of ice cream to bring home for my father.  He would usually be asleep in the living room with the TV set still turned on to the Friday Night Fights, his hand quietly shaking as it drooped over the arm of the floral printed club chair.  He always asked me how I enjoyed the movie, and I gave my critical review as my Mom served him some now softened Bryers strawberry ice cream. I crawled into bed pushing piggy Michael over to his side and listened to the agitated conversation of my parents, trying to find out what they were intensely whispering about. It was late.  I dreamt that handsome Dr. Rossi of Peyton Place sat on the bed next to me, holding my hand, telling me he found a cure for my father.
Saturday mornings were spent doing cleaning chores around the house under the eagle eye of my mother, while my father tinkered with the car parked curbside. The ringing clanging bell of the knife man would alert us that his cart was downstairs, and my mother sent me out to the street to get our cutlery sharpened. Sometimes, Ms. Francis, the spinster neighbor who lived in the brownstone next door, would invite me over for tea and read me a book.
At night, my Dad would sometimes drive up with to Yonkers Raceway for the trotters with my Uncle Cy, Aunt Laura's Lothario of a husband. My father loved to bet, and much to my mother's chagrin, he often won – "You spend more time with the horses and with that bum of a brother-in-law than with me." He would always give me a quarter from his winnings. After Sunday Mass, we had one o'clock dinner either at home or at my Polish grandma's in Bay Ridge, as Dad would spend Sunday nights up in the Bronx with Nona to get a head start for his drive to work on Monday morning.
Such was the cycle of the Brooklyn weekends in those years in 1956 and 1957 – of B movies, chow mein, candy bars, phone booths, ice cream and gypsies.
However, one weekend would be different. Very early on a late spring morning, Aunt Laura unexpectedly came over to watch my brother and sister. Dad told me to go downstairs and get in the car, tossing me the keys. He soon came down with Mom, who had packed a picnic lunch so it seemed. Mysteriously they didn't say where we were going as my Dad took the roller coaster West Side Highway at a gleefully high speed till we crossed the imposing George Washington Bridge. In a very few miles there was greenery everywhere, an Eden that I had never seen.  Panic started to set in, maybe they were going to abandon me in the woods like the hunter in Snow White, since I had been wetting the bed week allot that week.
Our big, black rambunctious car made its way north on the newly opened Palisades Parkway, getting back on Route 9W at Bear Mountain Circle. My face was pressed up against the rear side window astonished by rushing springs cascading down into frothing streams and the deer I think I saw glancing up at me as he ate some tall green grass.  Our car made the steep ascent up Storm King Mountain, slowly swerving to the tortuous inside shoulders of the narrow road, higher and higher with the valley way below us till we got so high we would soon have to come down. However, first we pulled over to a lookout spot. I got out of the car and ran into the woods to pee. When I came back I peered over the ledge and wondered at the breath-taking expanse of the valley covered with wild flowers. "Consider the lilies…even Solomon in all his glory was not arrayed like one of these." Mom had spread out a blanket and we ate olive loaf sandwiches. We all got back in the car and Dad said; "Watch this!"  He shut off the engine, coasting down in silence, breaking all the way down the darker leeward side of the mountain.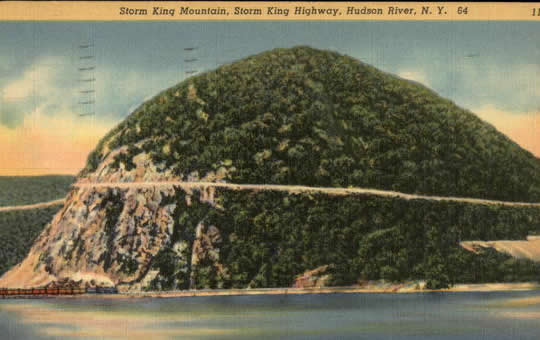 He started the car again, picked up speed as we sailed past a large farm on the left that smelled of newly tilled earth. I had to squint to see a large white mansion with barn and silo silhouetted by the hot white disc of the sun, burning my eyes. We crossed over a bridge spanning the sluggish, brown, backwater of Moodna Creek. Dad,  with  both hands firmly grasping the wheel to keep his shaking grip steady, turned left at St. Joseph's, a country church named in honor of the Virgin Mary's husband,  patron saints of fathers; another turn at the corner where a lonely gas station stood guard, empty and forlorn. Then a country highway with a palimpsest, center yellow line, divided a cemetery on one side and a large field of browning hay on the other; a left on a bumpy dirt road called Cedar Lane.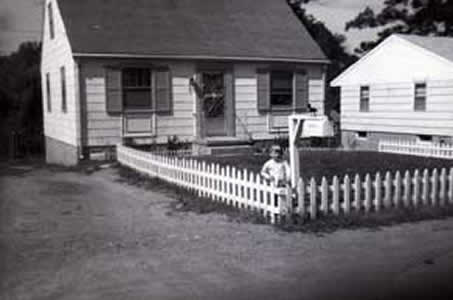 My sister Karen, in front of 47 Cross Street
My father slowed down even more as he turned right, and slid to a stop on the gravel and tar road into the macadam driveway of 47 Cross Street. There squatted a small gray one story, Cape Cod house, squeezed between a smaller Ranch house on the right and a live-in trailer home on cement blocks on the left. In the front was graveyard like, ash burnt dried-up lawn, with almost dead dandelions weeds struggling among the straw-dry grass. A miasma of dust hovered around the vehicle, my mother sat stiff backed in her seat. I started to nervously ask who lived here when, with some trouble, my Dad turned back around and tried to give me a smile from his frozen set face. He almost fell getting out of his side while my mother grunted under her breath and slammed the car door shut when she got out.
I refused to get out. I got on my knees on the back seat, looking out of the rear window, hot from the noon day sun, trying to see back to New York City, now blocked and guarded by the towering sentinel of Storm King Mountain.  "Young Man, get out here now!"  I keep looking up into the blinding sun. Suddenly Dad opened the rear door and grabbed me in his arms, carried me across cracked cement path and plucked me down on the front steps of the house.  He rang the door bell that gave a dull vibraphone sound, pulled out some keys, opened the door and entered into the darkened front room. Dad, holding on to the door, turned around looking down at me, his speech slurred from the disease, intoned from the darkness:  "We're home."
(To be continued)